Micro Drills enable drilling without pecking.
Press Release Summary: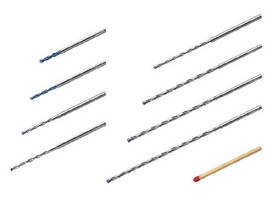 Available in 16 x D and 30 x D drilling depths with diameters from 2-2.95 mm, Titex X•treme DM Micro Drills are suitable for drilling holes for lubrication, cooling, venting, and nozzle bores in automotive, aerospace, die and mold, and general metalworking industries. Units feature internal cooling, as well as optimized point geometry with special cutting edge preparation and precisely dimensioned flute geometry for optimal chip formation. Polished flute surface also supports chip evacuation.
---
Original Press Release:

Walter Expands its Titex X·treme DM Micro Drilling Product Line



With these latest additions Walter brings performance features typically found only in larger drills to the 16xD and 30xD, and 2 to 2.95 mm diameter range.



Waukesha, WI – In response to increased industry demands for precision, Walter has expanded its high performance line of Titex X•treme DM micro drills with the addition of products in the 16xD and 30xD drilling depth ranges. In addition, diameters of 2 to 2.95 mm are now available for all drilling depths in these product ranges. Formerly the 2 mm diameter was available only in sizes smaller than 25xD.



Whether automotive, aerospace, die and mold, or general metalworking, industries increasingly require a multitude of drilled holes with diameters smaller than 3 mm. Sometimes drilling depths of up to and over 30xD are required. Typical applications include drilled holes for lubrication, cooling, venting, and nozzle bores.



Walter has succeeded in bringing the superior performance of its Titex X•treme DM family into the micro drill range due to a series of features that are typically not found in small diameter drills. First, these new Walter micro drills have internal cooling, just like the larger members of the X•treme family. Furthermore, their optimized point geometry with special cutting edge preparation and precisely dimensioned flute geometry ensure superior chip formation and, therefore, very high process reliability. The polished surface of the flutes also supports excellent chip evacuation.



The X•treme DM micro drills have a wide field of application, including the P, K, M and N ISO material groups. Importantly, the new DM micro drills allow the drilling process to take place without pecking. Pecking would cause additional load change and make the process unsafe.



Walter offers an extensive line up of cutting tools for milling, drilling, turning, boring and specialized tooling for unique applications through its competence brands Walter Valenite, Walter Titex and Walter Prototyp. As well as multi-level service programs through its Walter Multiply brand. Headquartered in Waukesha, Wisconsin the company has a strong network of distributors and field engineers across their subsidiaries in the USA, Canada, Mexico, Brazil and Argentina. The Walter name is synonymous with productivity, thanks to more than 90 years of developing cutting tools and inserts that set new standards in quality, innovation and production.





                                             

For further editorial information contact:

Mark Hemmerling

Director of Marketing

mark.hemmerling@walter-tools.com

N22 W23855 Ridgeview Pkwy West                     

Waukesha, WI 53188                            







More from Fluid & Gas Flow Equipment