Programmable Logic Controllers
Micro Brick PLC features compact, expandable design.
Press Release Summary: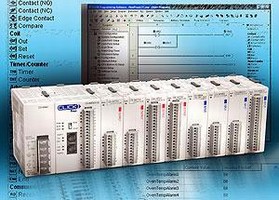 By itself, powered CLICK® CPU unit can function as complete PLC system. It features 8 inputs and 6 outputs, available in 4 combinations of built-in I/O types, as well as 11 option modules for flexible system configuration up to 142 I/O. Two 24 Vdc power supply options, with .5 or 1.3 A outputs, can be used to power PLC, which supports 8K steps of Flash EEPROM program memory and 8K words of data memory. There are also 2 built-in RS-232 RJ12 communications ports.
---
Original Press Release:

AutomationDirect Releases Small, Easy-To-Use PLC



Cumming, GA --- October 15, 2008 --- AutomationDirect announces the release of the CLICK® PLC, the first in a new generation of inexpensive PLC components designed to offer practical features in an easy-to-use, compact yet expandable design. Starting at $69, this line of micro brick PLCs with stackable I/O modules and free programming software is suitable for first time users as well as experienced programmers.

By itself, a powered CLICK CPU unit can function as a complete PLC system. The unit features eight inputs and six outputs, available in four combinations of built-in I/O types. For expansion, eleven option modules, starting at $33, are available for flexible system configuration, up to 142 I/O. All Click CPUs support 8K steps of Flash EEPROM program memory and 8K words of data memory. Two 24 VDC power supply options, with either .5A or 1.3A outputs, can be used to power the PLC.

The CLICK PLC system's space-saving design requires no mounting base; up to eight modules can be attached to the CLICK CPU module via an integrated expansion port on the sides of the modules and secured by locking tabs on the top and bottom of all modules.

CLICK CPU units, starting at $69, also feature two built-in RS-232 RJ12 communications ports. One port supports Modbus RTU protocol only and can be used as the programming port. This port can also connect the CPU to a Modbus RTU network as a slave device. The second port is a general purpose port with user configurable communications parameters and supports either Modbus RTU or ASCII protocols. Both communications ports supply 5 VDC, allowing connection of the C-more Micro HMI panel without an additional power supply. LED indicators located at each port indicate when the port is transmitting or receiving.

CLICK features user-friendly programming software, downloadable for free at www.automationdirect.com. The tools, layout, and interactivity allow quick and intuitive program development. The 21 practical instructions, a combination of Relay ladder logic and Function blocks, are supported by a comprehensive programming environment with easy navigation and a familiar look and feel. In addition, an online help file provides information to help users get acquainted with the software quickly.
As part of the CLICK line of products, pre-wired I/O cables are also available. Available in pre-wired and ready-to-wire configurations, the cables help eliminate the labor-intensive process of wiring PLC I/O to terminal blocks. Prices for the cables start at $16.50.

AutomationDirect sells over 7,000 feature-packed products through its Online Automation superstore and 2,000-page catalog. The company offers its customers high-quality automation products, which are often priced below the industry average, 24-hour order entry and same-day shipping on in-stock items, outstanding sales and technical support, and a 30-day money-back guarantee on almost every product. For a free catalog, access their Web site at www.automationdirect.com or call 800-633-0405.

More from Controls & Controllers