Michelman Highlights an Extensive Line of Topical Wood Treatment Additives at Eastern Coatings Show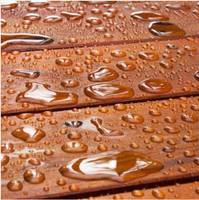 CINCINNATI, OH (May 15, 2019) – Michelman is excited to showcase their proprietary and low VOC Michem® Wood Coating line of wood treatment additives to Eastern Coatings Show attendees May 13-15, 2019. Their family of Michem® Wood Coating solutions raises the water resistance standard for waterborne deck stains and sealants. All of Michelman's solutions pass the ASTM D-4446 standard for swell resistance.
Michem Wood Coating 44 is a water-based surface modification additive for use in exterior wood stains and sealants that helps produce wood coatings with excellent weatherability characteristics. This topical wood treatment additive imparts outstanding water beading along with water and swell resistance for wood decks, fences, garden sheds, and other exterior wood applications. Its superior water-resistance properties improve surface aesthetics and color integrity. Michem Wood Coating 44 produces a pleasing, natural surface appearance and is particularly suitable for softwood as well as extending the look and use of outdoor wood furniture.
Additional products in this line of wood treatment additives include Michem Wood Coating 70LV, which is the most hydrophobic of the Michem Wood Coating line, and Michem Wood Coating 75, designed for use when re-coatability is required. Because Michem Wood Coating additives reduce water uptake and improve swell resistance, these additives also help control cracking, splintering, and color fading on exterior wood applications such as wood decks and fences.
Visitors to the show can learn more about the Michem Wood Coating line at booth #207.
Contacts:
Client: Doreen Stanley
Content Marketing Manager
Michelman
(513) 794-4285
Agency: Jeffry Caudill
President
Gingerquill, Inc.
(513) 448-1140
More from Fluid & Gas Flow Equipment