Michelin Introduces New CerexBIB 2 Harvester Tire with Ultraflex IF and VF Technology
Press Release Summary: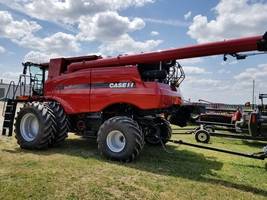 The MICHELIN® CerexBIB 2 Harvester Tire is offered in nine front sizes and seven rear sizes. The unit can run at pressures as low as 17 psi with a load carrying capacity of 21,740 lbs. It's tread increases traction, fuel savings and improves safety. The tire provides 6 miles-per-hour (mph) cyclic loading table when compared to standard CFO of one 10-mph cyclic loading table.
---
Original Press Release:
Just in Time for North American Harvest, Michelin Launches New Harvester Tire
CerexBIB 2 is designed to offer the best load capacity and lowest pressure in the market
GREENVILLE, S.C., Aug. 28, 2018 /PRNewswire/ -- Farmers are using ever-larger machines to perform at high-load capacities while maintaining low pressures in the field. The MICHELIN® CerexBIB® 2 with IF and VF CFO+ designations innovatively push the load and pressure limits for combine harvesters and other large harvesting equipment. CerexBIB 2 is available now in nine front sizes and seven rear sizes.
Michelin's CFO+ technology offers a second and lower 6 miles-per-hour (mph) cyclic loading table over the standard CFO of one 10-mph cyclic loading table. Farmers may gain up to a 10 percent bonus(2) in load-carrying capacity at the same pressure, or the option of carrying the same load at lower pressures to maximize floatation and traction and minimize soil compaction.
Michelin designed and tested these tire innovations in collaboration with leading equipment manufacturers. The CTIS-enabled CerexBIB 2 tire is engineered to ensure optimal harvest time despite soil conditions. The CerexBIB 2 CFO+ provides up to 35 percent more load capacity at the same pressure versus leading competitors(2). The tire runs at the lowest pressures in the market(2); in fact, the CerexBIB 2 may run as low as 17 psi while carrying a load of 21,740 pounds. The tire's contact patch expands up to 35 percent(3) which is designed to reduce soil compaction and protect the soil for future harvests.
"Today's farmers are using progressively larger machinery but must manage both load capacity and soil compaction," said David Graden, Michelin North America agriculture operational marketing manager. "Because Michelin's CerexBIB 2 is air-systems ready, it offers a solution that answers these and other performance challenges."
The tire tread is designed to increase traction, fuel savings and improve safety, key benefits for farmers who want to achieve shallower ruts and less soil compaction while they harvest the crops. The CerexBIB 2 tire incorporates MICHELIN Ultraflex IF & VF technology, which offers the best load capacity in its class, low ground pressure and very high levels of traction in the field(4). The CerexBIB 2 offers fuel savings up to 10 percent(1), as well as potentially contribute to increased crop yields(5).
The CerexBIB 2 will be offered in the following front sizes: VF520/85R42, VF580/85R42, VF710/70R42, IF800/65R32, IF800/70R32, IF800/70R38, IFVF900/60R32, VF900/60R38 and VF900/60R42.
The CerexBIB 2 will be offered in the following rear sizes: VF500/85R34, VF520/80R26, VF520/85R30, VF620/70R26, VF620/70R30, VF710/65R30 and VF750/65R26.
For more information on MICHELIN Ultraflex tires, visit www.MichelinAg.com or contact your local Michelin Agriculture tire dealer.
According to field test results from more than 80 demonstrations per year conducted worldwide by Michelin.
Based on a study comparing the Bridgestone VT Combine IF CFO tire, a Trelleborg TM2000 tire, a MICHELIN CEREXBIB 2 VF CFO+ tire and a MITAS SFT CHO tire in size 900/60R32.
Based on internal testing comparing a MICHELIN CEREXBIB 2 CFO+ tire and a MICHELIN MEGAXBIB tire in size 900/60R32.
Based on a study comparing a first-generation MICHELIN CEREXBIB, a MICHELIN MEGAXBIB and a MICHELIN CEREXBIB 2 VT CFO+ in size 900/60R32.
1Smith E., Misiewicz, P.A., White, D.R., and Godwin, R.J., 2014, Harper Adams Study, Effects of traffic and tillage on crop yield (winter wheat Triticum aestivum) and the physical properties of a sandy loam soil.
About MICHELIN NORTH AMERICA
Dedicated to the improvement of sustainable mobility, Michelin designs, manufactures and sells tires for every type of vehicle, including airplanes, automobiles, bicycles, earthmovers, farm equipment, heavy-duty trucks and motorcycles. The Company has earned a long-standing reputation for building innovative premium tires. In addition to tires, the Company also publishes travel guides, hotel and restaurant guides, maps and road atlases. Headquartered in Greenville, S.C., Michelin North America employs more than 20,000 people and operates 19 major manufacturing plants in the U.S. and Canada. Forbes magazine has ranked Michelin No. 1 on its annual survey of "Best Large Employers in America" for 2018. Learn more about purpose-driven careers with a purpose-driven company at jobs.michelinman.com.
CONTACT: Mary Ann Kotlarich, Michelin North America, 864-458-4884, Mary-ann.kotlarich@michelin.com, www.michelinmedia.com
Web Site: http://www.MichelinMedia.com
More from Machinery & Machining Tools