MHz Quartz Crystal suits high-reliability applications.
Press Release Summary: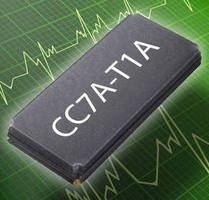 Supplied in 3.2 x 1.5 x 0.90 mm ceramic package, CC7A-T1A precision timing crystal operates over -40 to +85/+125°C range and offers thermal stability down to +/-10 ppm. AT cut quartz crystal is RoHS-compliant and exhibits resistance to shock and vibration. Standard output frequencies are 24.0, 26.0, and 26.5 MHz, with other frequencies in 24-30 MHz range upon request. Markets served include implantable medical and medical telemetry, avionics, and automotive applications.
---
Original Press Release:

Micro Crystal Introduces Smallest Ceramic Package MHz Quartz Crystal for Implantable and High Reliable Applications



Circuit designers pressed for space should check out Micro Crystal's newest MHz quartz crystal, the CC7A-T1A. Designed for application in implantable medical and medical telemetry, avionics, automotive and other high-reliability markets, this precision timing crystal has a package height of 0.90mm and a footprint of only 3.2 x 1.5mm. This is the smallest size available for implantable crystals and marks an extension of the new small size line-up of implantable, high-reliable crystals of Micro Crystal. An already-released, low-frequency version, covers from 30 to 500kHz and 32.768kHz and comes in the same package.

Intended for critical timing applications, the AT cut quartz crystal CC7A-T1A offers a wide temperature range, up to -40 to +85/+125°C, and a low thermal stability for medical applications (down to +/-10ppm), which meets the requirements for wireless applications. Low aging and very high 5.000g shock and vibration resistance combine to make this device ideal to meet the specifications of the high-reliable market applications. An innovative crystal design provides performance comparable to larger devices. The CC7A-T1A is RoHS compliant and 100% lead free.

Micro Crystal also offers extended custom testing conditions in order to meet the requirement of cardiologic and neurostimulation applications for implantable devices, including particle detection, X-ray scanning and others. Standard frequencies are 24.0, 26.0 and 26.5MHz, with other frequencies in the 24 to 30MHz range upon request. All frequencies are generated in fundamental mode. The crystals are supplied in special trays (170 crystals per tray). For pick-and-place equipment, the parts are available in 12 mm tapes: 7" (178 mm) reel with 3'000 crystals, 13" (330 mm) reel with 14'000 crystals.

Applications include: Implantable devices, pacemaker, cardiologic and neurostimulation high-reliability markets.

The Micro Crystal CC7A-T1A is available in production quantities, with eight to sixteen week delivery. Prices are dependent on custom testing specifications and range from $4.00 to $20.00 each in 10,000 piece lots. Datasheets are available online. For more information, visit: www.microcrystal.com. Phone: 847-818-9825; email sales.us@microcrystal.com.

About Micro Crystal AG:
Micro Crystal AG, Grenchen, Switzerland develops, manufactures and sells Crystal devices, Oscillators, OCXO and Real Time Clocks for the world wide market of the electronic industry.

Micro Crystal employs about 1000 persons worldwide, with large-volume production in China, Thailand and Switzerland. A network of offices in Europe, Asia, Japan and North America ensures tight relationship to global customers and strong technical support. Micro Crystal AG stands for reliable technology, commitment for quality and environmental friendly production. .www.microcrystal.com

About Swatch Group Electronic Systems
Micro Crystal is a member of the Swatch Group Electronics Systems (SGES). This group is formed by daughter companies of the Swatch Group active in the electronics field, in order to ensure synergy of development for customer's applications. www.electronicsystems.swatchgroup.com

For further information, please contact:

USA:
Micro Crystal, A Div of the Swatch Group (U.S.) Inc.
1615 Barclay Blvd.
Buffalo Grove, Il 60089
USA
Phone: +1-847-818-9825
Fax: +1-847-818-9915
sales.us@microcrystal.com
www.microcrystal.com

More from Fluid & Gas Flow Equipment