MH-18 Position Hinges come in glass-filled nylon housing.
Press Release Summary: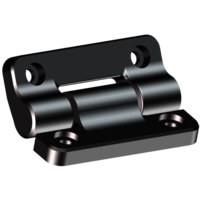 Supplied with 4 N-m, 6 N-m, or 8 N-m of constant holding torque, MH-18 Molded Nylon Position Hinges are configured for 270º motion. Using ReellTorq® clip technology for 20,000 cycles fully qualified life, hinges are suitable for position control and adjustability applications in industrial, medical, and offices. Product features door-hinge mounting design and textured black finishing.
---
Original Press Release:
New Reell MH-18 Molded Nylon Position Hinge Reliably Holds and Easily Adjusts with 'One-Way' Torque Technology
The new MH-18 molded nylon position hinge from Reell Precision Manufacturing integrates "One-Way" torque technology developed exclusively by Reell to achieve reliable holding force in one direction while enabling easy adjustment with virtually no resistance in the other. This lightweight but strong hinge will especially suit vertical adjustment applications where components must be positioned and held against gravity and then repositioned upwardly as needed – without resorting to costly and potentially unsafe prop rods or similar devices that can obstruct or fail. Applications include enclosure doors, covers, monitors, hatches, and many other components requiring ideal position control and adjustability in the industrial, medical, office, and consumer electronics equipment marketplace.
The hinge additionally benefits from patented ReellTorq® clip technology to deliver precise and consistent torque with a fully qualified life of 20,000 cycles, while providing a smooth and unmatched operating feel.
The MH-18 position hinge features a conventional door-hinge mounting design and can be supplied with 4 N-m (35.4 lb-in), 6 N-m (53.1 lb-in), or 8 N-m (70.8 lb-in) of constant holding torque with minimal freeplay throughout a full 270º range of motion (configured for either forward or reverse torque direction). The hinge's glass-filled nylon housing is highly durable without the weight associated with all-metal hinges. A textured black finish contributes an attractive appearance in service.
Detailed specifications, CAD animation, and video introduction can be accessed and downloaded at www.reell.com. Custom products can be engineered to meet particular application requirements.
Founded in 1970, Reell Precision Manufacturing Corporation is a world leader in small-package position control offering a diverse portfolio of positioning hinges, wrap spring clutches, torque inserts, and precision springs and wire forms.
Contact
John Schannach,
Reell Precision Manufacturing Corporation,
1259 Willow Lake Boulevard,
Saint Paul, MN 55110-5103 USA.
Tel: +1 651-486-3333;
Fax: +1 651-484-3867.
Email: info@reell.com
Web site: www.reell.com
More from Cleaning Products & Equipment