Mezzanine Board adds dual GbE to VME/VPX expansion.
Press Release Summary: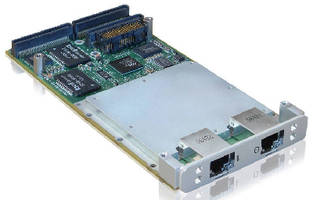 Available in air- or conduction-cooled versions, Kontron XMC-ETH2 allows all VPX, VME, CompactPCI, and custom boards offering PMC or XMC slot to be extended by 2 Gigabit Ethernet interfaces that can be individually routed to front or backplane. Plug-and-play board automatically selects data bus, and integrated micro DIP switch allows for manual override of host bus selection. To optimize data throughput, board integrates Intel® 82571 Dual Channel Ethernet Controller.
---
Original Press Release:

Kontron XMC-ETH2: Robust Dual Gigabit Ethernet Mezzanine Board with Long-Term Availability



Faster inter- and intraconnect for robustCompactPCI, VME or VPX systems

Eching, Germany, October 6, 2009 - With the new dual Gigabit Ethernet mezzanine board Kontron XMC-ETH2, all VPX, VME, CompactPCI and custom boards offering a PMC or XMC slot can be extended by two Gigabit Ethernet interfaces, which can be individually routed to the front or to the backplane. Equipped with the high-end Intel® 82571 Dual Channel Ethernet Controller, the Kontron XMC-ETH2 mezzanine board delivers best possible data throughput.

The new mezzanine board comes in two versions: air-cooled (Standard Commercial (SA)) or conduction-cooled (Rugged Conduction Cooled Version (RC)) in order to suit the individual needs of different system environments. Thanks to Kontron's dedicated long term supply (LTS) program, customers can enjoy 10+ years of guaranteed supply, making the Kontron XMC-ETH2 the ideal Ethernet mezzanine for infrastructure programs. Typical application areas can be found in markets such as medical, transportation, military, aerospace, energy and automation.

Owing to the fact that the Kontron XMC-ETH2 mezzanine board supports both XMC and PMC extension slots, it can be used universally in different system designs. Designed as a Plug & Play solution, the Ethernet mezzanine board automatically selects the data bus according to whether the power supply is present on the P5 connector (x4 PCI Express). Otherwise, it switches to 32 bit PCI 33 MHz or 66 MHz on the PMC connectors. An integrated micro DIP switch allows for manual override of the host bus selection. Another micro DIP switch controls Ethernet channel routing to the front panel (RJ-45) or to the backplane (P4). Each channel can be routed separately.

The Kontron XMC-ETH2 dual Gigabit Ethernet mezzanine board supports Linux, VxWorks and Windows XP and is available now: the SA version for air-cooled system designs in a temperature range of 0 °C to 55 °C (VITA 47-Class AC1) and the RC version for robust conduction-cooled systems in the extended temperature range of -40 °C to 85 °C (VITA 47-Class CC4).

Further information on the Kontron XMC-ETH2 mezzanine board at: www.kontron.com/products/boards+and+mezzanines/pmc++xmc/ethernet/xmceth2.html

Further information on the XMC and PMC mezzanine boards at: www.kontron.com/products/boards+and+mezzanines/pmc++xmc/

Visit www.kontron.com/about-kontron/custom-solutions/rugged-cots/ for further information on the rugged COTS solutions

About Kontron
Kontron designs and manufactures embedded and communications standards-based, rugged COTS and custom solutions for OEMs, systems integrators, and application providers in a variety of markets. Kontron engineering and manufacturing facilities, located throughout Europe, North America, and Asia-Pacific, work together with streamlined global sales and support services to help customers reduce their time-to-market and gain a competitive advantage. Kontron's diverse product portfolio includes: boards & mezzanines, Computer-on-Modules, HMIs & displays, systems & platforms, and rugged & custom capabilities. Kontron is a Premier member of the Intel® Embedded and Communications Alliance and has been a VDC Platinum Vendor for Embedded Computer Boards 5 years running. Kontron is listed on the German TecDAX stock exchange under the symbol "KBC". For more information, please visit: www.kontron.com


More from Mechanical Power Transmission