Metso Automation E Series Ceramic Ball Valve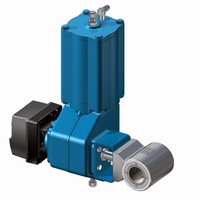 One of the Most Erosion Resistant Control Valves Available

NORTHBOROUGH, Mass. (August 14, 2006) - Metso Automation's Neles E Series ceramic-lined ball valve, using a new generation of ceramic material, provides users with the most erosion resistant control valve currently available. Completely lining the flow path, the magnesia partially stabilized zirconia (Mg-PSZ) is superior to the more common ceramics found in other valves, making it suitable for a wide range of severe service industrial applications.

The Neles E Series valve is ideal for abrasive applications such as lime mud control, kaolin, china-clay control, calcium carbonate handling, gypsum handling, cement production, metal slurries, catalyst regeneration, desulphurization units and more.

Features of the Neles E Series ceramic-lined valve with Mg-PSZ include:

o Resistant to mechanical and thermal shock - maintaining ceramic integrity and preventing cracking, making it an ideal replacement for ordinary low strength, brittle ceramics.
o Total erosion resistance - a completely ceramic lined flow path without metal parts provides maximum erosion resistance.
o Rigid stainless steel single piece body - withstands pressure loads and pipeline forces to protect the ceramic material.
o Increased stability and control - the ball to stem connection is a strong and backlash free blade joint design, eliminating lost rotation between the ball and stem, which improves control stability.
o Live loaded, double set of PTFE V-ring packing - minimizes fugitive emissions and eliminates the need for packing adjustment.
o High tensile strength - 450 MPa exceeds the strength of other ceramics commonly used in industrial practice to such a degree that this material can be considered close to steel.
o Good thermal shock resistance - standard material has temperature shock resistance of +710 °F. Higher values are available upon request.
o Exceptional toughness - due to special transformation toughening features the ceramic material is fracture resistant and not subject to brittleness as traditional ceramics.

Designed with a wafer style body rated for ASME Class 150 or 300 applications, the E2 is available in sizes 1" - 4". The E6 is available in sizes 1"-6" with ASME Class 150 or 300 rating. Valves made of special alloys are available on request.

When traditional metal seated control valves are failing prematurely due to erosion, it makes
good financial sense to upgrade to the Neles brand E-Series ceramic ball valve, as down time
and maintenance costs should be considered when calculating the total cost of ownership. With
the E Series, two, three and four times the service life is not uncommon in many severe
abrasive applications.

The Neles E Series ceramic ball valve is available now. For more information, contact Metso Automation, 44 Bearfoot Road, Northborough, MA 01532. Phone: 1-508-852-0200. Visit us online at www.metsoautomation.com.

Note to Editors: For a supporting color picture, or the electronic version of this release, please email Paul Hughes at phughes@catalystb2b.com.

Metso is a global engineering and technology corporation with 2004 net sales of approximately EUR 4 billion. Its 22 000 employees in more than 50 countries serve customers in the pulp and paper industry, rock and minerals processing, the energy industry and selected other industries. www.metso.com.

Metso Automation:

Metso Automation specializes in automation and information management application networks and systems, field control technology and life cycle performance services. Its main customers are the pulp and paper industry as well as energy production and processing industries.

Metso Automation operates worldwide and has sales and customer support units in 34 countries in Europe, North and South America, Asia and Australia, and Africa. In 2004, Metso Automation's net sales were EUR 531 million. The number of employees totals approximately 3 300. For more information about Metso Automation, please visit www.metsoautomation.com.

More from Agricultural & Farming Products