Metsa Board Shows Paperboards for Packaging with Premium Presence at Luxe Pack Monaco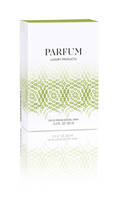 At Luxe Pack Monaco 2014 Metsä Board showed its extensive portfolio of lightweight packaging boards designed to give premium presence combined with sustainability. Its new cartonboard, Carta Allura, has been developed especially for luxury end-uses. Also on show were the new fully bleached Modo Northern Light liners, ideal for microflute as well as providing quality print results on corrugated displays and packaging.



Carta Allura has exceptional smoothness making it ideal for foil lamination, high-gloss varnish and other special effects. It also has high brightness and an attractive visual appearance that creates the right impression when used for premium products. Carta Allura is most suitable for beautycare, high-end food and beverages as well as graphics applications, and it is lightweight yet firm, giving more cartons per tonne and enhancing sustainability. Its consistency and stiffness make production processes trouble-free and the reverse side is also coated to ensure a good finish to the inside of the carton.



The Modo Northern Light range of lightweight, fully-bleached coated and uncoated liners can be used in both in microflute and traditional corrugated packaging, and the uncoated version also as fluting. New coated Modo Northern Light Litho is specially developed for litholamination and is also suitable for other offset applications. New coated Modo Northern Light Flexo is designed for flexo preprint and conventional corrugating. They are equally applicable for point of sale, shopping bags, and any lightweight consumer packs or inner structures.



Christophe Baudry, Commercial Director for Beautycare at Metsä Board, talked about the importance of sustainability: "Paperboard's origins in well-managed northern forests mean it is recognised as being made from one the few truly renewable resources. Combined with its recyclability, its use helps meet increasing demand for ethical and responsible purchasing practice. Paperboard is also ideal for packaging that matches the trend towards more natural ingredients in beautycare."



Metsä Board also showed its other beautycare and premium packaging grades, including Carta Elega, Carta Integra, Carta Solida and Avanta Prima cartonboards as well as the cast-coated Chromolux range, all made of traceable fresh forest fibres. New Chromolux digital range has been developed especially for HP Indigo and dry toner applications, and combines high gloss and a luxury feel with the flexibility and speed of digital print to produce sparkling results.



Global brand owners had the opportunity to learn about Metsä Board's Packaging Services that offer a one stop shop to meet all their requirements. The range of services includes packaging needs analysis, design services, print management, and supply chain management.



For further information, please contact Metsä Board:



Christophe Baudry, Commercial Director Beautycare Healthcare

Mobile: + 33674951598

E-mail: christophe.baudry@metsagroup.com



www.metsaboard.com



Metsä Board is Europe's leading producer of fresh forest fibre cartonboards, the world's leading manufacturer of coated white-top kraftliners, and a major paper supplier. The company's sales network serves brand owners, carton printers, corrugated packaging manufacturers, printers, merchants and office suppliers.



Metsä Board supports its customers' businesses by providing high-performance paperboards and quality papers for consumer and retail packaging, graphics and office end-uses. Together with its customers and partners, Metsä Board develops products and services for demanding end uses. The company's paperboard is mainly used for the packaging of beautycare and healthcare products, foods, cigarettes, and consumer durables as well as graphics. Paper is mainly used for office papers as well as wallcoverings and other speciality end uses.



Metsä Board's business areas are Cartonboard, and Linerboard and Paper.



Metsä Board is headquartered in Finland. In 2013, the company's sales totalled EUR 2.0 billion, and it has approximately 3,100 employees. Metsä Board, part of Metsä Group, is listed on the NASDAQ OMX Helsinki.



www.metsagroup.com



Metsä Group is a responsible forest industry group whose products' main raw material is renewable and sustainably grown northern wood. Metsä Group focuses on tissue and cooking papers, consumer packaging paperboards, pulp, wood products, and wood supply and forest services. Its high-quality products combine renewable raw materials, customer-orientation, sustainable development and innovation. Metsä Group's sales totalled EUR 4.9 billion in 2013, and it employs approximately 11,000 people. The Group operates in some 30 countries. Metsäliitto Cooperative is the parent company of Metsä Group and is owned by approximately 123,000 Finnish forest owners.



More from Agricultural & Farming Products