Metrology System offers tool for thin film wafer inspection.
Press Release Summary: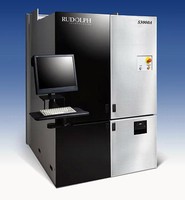 Utilizing multiwavelength focused beam ellipsometry (FBE), Model S3000A Transparent Thin Film Metrology System includes deep UV reflectometer that uses parallel data collection for throughput, precision, and spectral resolution. System features 633, 784, and 923 nm stabilized laser diodes and XPort platform for wafer handling with up to 4 TDK load ports, dual-arm robot, and built-in control of molecular airborne contaminants.
---
Original Press Release:

Rudolph to Ship Multiple Transparent Film Metrology Tools to Taiwan Memory Foundry



New, Production-worthy S3000A System Moves Quickly into Marketplace

FLANDERS, NJ (November 7, 2007)-Rudolph Technologies, Inc. (NASDAQ: RTEC), a worldwide leader in high-performance process control metrology, today announced the launch and first shipments of its new S3000A Transparent Thin Film Metrology System. Multiple tools in each of the next two quarters are scheduled to ship to a leading memory foundry in Taiwan, with one additional system also scheduled to ship this quarter to a fab in Europe. Recent interest in Rudolph's transparent film systems from major fabs in Asia and Europe indicates strong, early market acceptance of the new tool.

Combining Rudolph's industry-standard multi-wavelength focused beam ellipsometry (FBE) and a new, faster, deep ultraviolet reflectometer (DUVR) on the company's high-speed XPort(TM) automation platform, the S3000A System delivers a 25 percent throughput improvement over the current tool and the lowest cost-of-ownership (CoO) available in the market today.

"The low cost-of-ownership of the S3000A Metrology System extends our focused beam ellipsometry, long recognized as an optimal solution for demanding applications like diffusion, to a broader range of processes throughout the fab, including etch, CMP and back-end thin films," said Paul Ter Beek, Rudolph's manager for thin film and OCD metrology. "The fundamental stability of laser-powered metrology enables accurate, consistent measurements among metrology tools, making it a production-worthy solution for fab-wide deployment. The strong response of our customers to the S3000A system is further confirmation of the CoO value our solutions provide. The S3000A is the latest technical advancement in Rudolph's long history of pioneering advances in ellipsometry as we lead the industry with an installed base of ellipsometers in excess of 2500 tools."

Rudolph's transparent film metrology tools deliver reliable measurements in high-volume production in advanced fabs around the world. It was the first company to deliver multi-angle, multi-wavelength ellipsometry for transparent thin film and OCD metrology. Stabilized laser diodes (633nm, 784nm, and 923nm) in the S3000A system further enhance the technology's inherent advantages in accuracy and precision, tool matching and long-term stability. The tool's new, fast DUV reflectometer uses parallel data collection to improve throughput, precision and spectral resolution. The XPort platform provides superior wafer handling with up to four industry-standard TDK load ports, a dual-arm robot and built-in control of molecular airborne contaminants. The platform's Windows®-based software delivers fast, efficient operation in a familiar software environment.

Rudolph Technologies is a worldwide leader in the design, development, manufacture and support of high-performance process control metrology, defect inspection and data analysis systems used by semiconductor device manufacturers. Rudolph provides a full-fab solution through its families of proprietary products that provide critical yield-enhancing information, enabling microelectronic device manufacturers to drive down costs and time to market. The company has enhanced the competitiveness of its products in the marketplace by anticipating and addressing many emerging trends driving the semiconductor industry's growth. Rudolph's strategy for continued technological and market leadership includes aggressive research and development of complementary metrology and inspection solutions. Headquartered in Flanders, New Jersey, Rudolph supports its customers with a worldwide sales and service organization. Additional information can be found on the company's web site at www.rudolphtech.com.

More from Electrical Equipment & Systems