Metrology System offers non-destructive, 3D surface profiling.
Press Release Summary: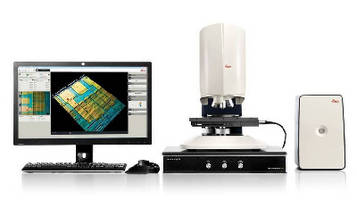 Combining lateral resolution up to 140 nm via confocal microscopy and vertical resolution up to 0.1 nm with interferometry, Leica DCM8 provides surface analysis of materials and components. Instrument is also suitable for color documentation of samples. Wide choice of Leica objectives, together with 4 LED light sources and integrated CCD camera, deliver true-to-life color images. With XY topography-stitching mode, users can obtain seamless, precise model of larger area.
---
Original Press Release:

Leica Microsystems Launches 3D Surface Metrology Solution



Leica DCM8 Unites Advantages of High-Definition Confocal Microscopy and Interferometry in One Instrument



Wetzlar, Germany — Leica Microsystems launches the Leica DCM8 for non-destructive three-dimensional surface profiling. The instrument is a combined confocal and interferometric optical profiler and therefore provides the benefits of both technologies: high definition confocal microscopy for high lateral resolution and interferometry to reach sub-nanometer vertical resolution. Both techniques can be important for surface analysis of materials and components across numerous research and production environments. Surfaces that are made up of intricate structures with highly sloping areas demand lateral resolution of a few microns. In contrast to this, polished super-smooth surfaces with critical micro peaks and valleys require vertical analysis on the nanometer scale.



With the Leica DCM8, users will be able to meet their specific surface metrology needs – with lateral resolution up to 140 nm via confocal microscopy and vertical resolution of up to 0.1 nm with interferometry. Stefan Motyka, Teamleader Product Management Team Industry, says: "The Leica DCM8 is a versatile and accurate profiler that saves time and money: Users will not have to swap instruments to be able to observe and measure the same sample with confocal and interferometry technology – they only need one instrument. Additionally, the user-friendly set-up and operation of the microscope saves effort and delivers accurate results very quickly and conveniently."



In order to achieve such high resolution and speed, the Leica DCM8 employs confocal scanning technology without moving parts in the sensor head for enhanced reproducibility and stability. Switching between techniques is also fast and simple with only one mouse click required.



Christof Scherrer, IMPE, Winterthur, Switzerland, says: "We decided to buy the Leica DCM system due to its ability to operate as an optical microscope with brightfield, darkfield and confocal, as well as three interferometric modes. Flexibility is the most important factor for a diversified institute working in materials science such as ours."



In addition to the different technologies for observation and analysis, the Leica DCM8 is an ideal instrument for accurate color documentation of samples. A wide choice of high-quality Leica objectives together with four LED light sources – blue (460 nm), green (530 nm), red (630 nm), and white (centered 550 nm) – and an integrated CCD camera deliver true-to-life color images. The camera has a large field of view – and if this is not enough, the XY topography-stitching mode can be chosen to obtain a seamless, precise model of a larger area. The intuitive software enables users to simplify complicated 3D and 2D analyses and can be configured to their needs. 



For more detailed information on the instrument please go to www.leica-microsystems.com/dcm8



Leica Microsystems is a world leader in microscopes and scientific instruments. Founded as a family business in the nineteenth century, the company's history was marked by unparalleled innovation on its way to becoming a global enterprise. Its historically close cooperation with the scientific community is the key to Leica Microsystems' tradition of innovation, which draws on users' ideas and creates solutions tailored to their requirements. At the global level, Leica Microsystems is organized in three divisions, all of which are among the leaders in their respective fields: the Life Science Division, Industry Division and Medical Division.



The company is represented in over 100 countries with 6 manufacturing facilities in 5 countries, sales and service organizations in 20 countries, and an international network of dealers. The company is headquartered in Wetzlar, Germany.

More from Architectural & Civil Engineering Products