Metrofuser Introduces Printer Fusers and Maintenance Kits to Reduce Costs and Increase Profitability
Press Release Summary: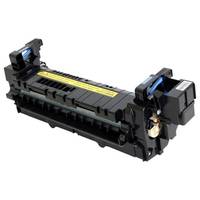 Metrofuser's printer fusers and maintenance kits are available for the HP LaserJet Enterprise M607, M608 and M609 printers and features black and white outputs.
---
Original Press Release:
Metrofuser Adds HP M607, M608 M609 Printer Fusers and Maintenance Kits to Lineup
November 30th, 2018--Elizabeth, NJ— Laser printer parts manufacturer Metrofuser (www.metrofuser.com) has introduced printer fusers and maintenance kits for HP LaserJet Enterprise M607, M608 M609 printers. The availability of these fusers will help reduce costs and increase profitability for the company's nationwide customer base.
RM2-1256 M607 M608 M609 Printer Fuser
Metrofuser provides two options to acquire these printer fusers - by economical repair and return or by convenient advance exchange service. Metrofuser stocks the M607 series printer fusers, part number RM1-1256, L0H24A and L0H24-67901. They are ready for same day shipping.
Metrofuser's fusers and maintenance kits for HP Printers offer brilliant crisp black and white output and guaranteed against all image defects.
"Reliable parts solutions are in high demand with the advent of more feature-rich printers in the marketplace," stated Eric Katz, Co-President, "Our customers require the most precise imaging technology in this demanding market and our R&D team has devised a solution for the M607  series fuser," adding that, "Our printer fusers hold up to the most demanding conditions offering unequaled durability - these fusers work flawlessly with OEM and compatible toners."
The introduction of these HP fusers to Metrofuser's product line represents a continued commitment to invest in R&D. Katz reiterates "Metrofuser's priority is to develop best-in-class repair and remanufacturing procedures along with rigid performance testing that enables us to deliver replacement parts that are unequaled in reliability and quality."
Metrofuser is a leading global innovator, manufacturer of printer parts, equipment, diagnostics, repair information and systems solutions for professional users performing critical tasks. Products and services include HP printer parts, printers and printer repair training. Parts include HP printer parts such as printer fusers, printer maintenance kits and other printer replacement parts. The company's, customers include office equipment dealerships, online retailers, repair centers and MPS service providers nationwide. Metrofuser has been named to Inc. Magazine's fastest growing companies five consecutive years.  Visit www.metrofuser.com
More from Packaging Products & Equipment