Methods to Feature "Production On Demand" at imX 2011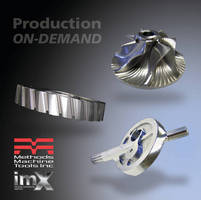 Learning Lab Sessions to Feature Innovative Technology and Strategies for Today's Manufacturing Challenges.

Sudbury, MA, U.S.A. - Methods Machine Tools, Inc., a leading supplier of innovative precision machine tools, will be featuring solutions for "Production on Demand" at the imX-Interactive Manufacturing Experience event to be held in Las Vegas, September 12-14, 2011. Methods is one of the eight major "experience partners" participating in imX 2011.

To learn about the difference "Production on Demand" makes, attendees are invited to attend seminars in Learning Labs and also witness demonstrations on how techniques are applied. Methods will show how implementing automation, new strategies and technology will increase production, minimize cost and reduce set-up time, especially for small-lot production, completing parts in one set-up, multitasking and five-axis machining.

"Much of mass production has moved overseas. Our customers especially need fast, versatile solutions for complex, small-volume, high-precision jobs." said Mr. Bryon Deysher, President & CEO, Methods Machine Tools, Inc. "Affordable, integrated solutions for the whole manufacturing process are key." During hourly Learning Labs, Methods will partner with several of their suppliers to feature short-run production techniques during the following sessions:

- Automation on Demand will focus on affordable automation strategies for multi-axis machines specifically designed for the job shop environment utilizing vision, laser, RFID, and bar code reading, for a complete manufacturing solution.

- Five-Axis on Demand will feature a complete impeller manufacturing strategy: programmed, posted, optimized, verified, machined and inspected in minutes.

- Ultimate Production on Demand to learn how Kennametal integrated five-axis Cublex technology equipped with horizontal and vertical turning, along with a fully automated B-axis turn-mill, to produce thousands of different part variations in true, single-piece flow to drastically improve efficiency / cost.

- Multi-Tasking on Demand takes turn/mill lathes to the next level with quick changeovers for small lot production in minutes.

- Extreme EDM on Demand will highlight breakthrough multi-axis EDM technologies producing virtually no recast while providing superior edge quality in aerospace, medical and PCD materials.

- Software on Demand will demonstrate true G-code simulation and optimization for both milling and multi-tasking lathe applications, which makes single block prove-out obsolete.

- Comparative Measurement on Demand will demonstrate in-process and post process comparative measurement to reduce bottlenecks and improve throughput.

Methods will also be introducing new and innovative machine tools, and a unique automation cell at imX, all making their North American debut. Introductions include the Five-Axis Matsuura MAM72-100H Horizontal Machining Center, the largest five-axis model in the MAM72 Series and especially well-suited for large aerospace parts.

The High Performance FEELER FT-350 Boxway Turning Center will also be introduced at imX. The FT-350 features extensive design and engineering by Methods, designed to provide users unsurpassed performance and value. Methods will also demonstrate an automation cell including a KIWA KH-41 Horizontal Machining Center, a FEELER FTC-150 High Performance Turning Center and a Zeiss CMM.

Methods Machine Tools, Inc. has been a leading supplier of precision machine tools, automation and accessories for over 50 years, providing extensive applications engineering support, installation, parts, service, and training through a network of large state-of-the-art technology centers and dealers throughout North America. For more information, please contact Methods at 65 Union Avenue, Sudbury, MA 01776, TEL: (978) 443-5388, FAX: (978) 440-9405, Email: sales@methodsmachine.com or visit their website at www.methodsmachine.com.

imX - the interactive manufacturing eXperience - brings together the most powerful names in U.S. manufacturing for a groundbreaking three-day event. Five years in the making, a group of machine tool builder CEOs helped develop imX as an alternative to traditional trade shows - one that brings real business value to customers, and through their success, the manufacturing industry.

If you are interested in attending Methods' session, please contact Methods or visit imxevent.com for more information.


More from Architectural & Civil Engineering Products