Methods to Feature an Expansive Range of Innovative Machine Tools & Automation at IMTS 2014, Booth S-9119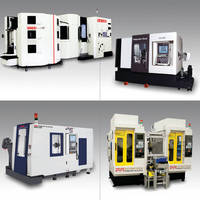 Over 20 NEW Machines & Solutions on Display.



Sudbury, MA, U.S.A. – Methods Machine Tools, Inc., a leading supplier of innovative precision machine tools, automation and accessories has announced that 40 machine tools and automation solutions will be featured in Booth # S-9119 at IMTS 2014 (International Manufacturing Technology Show) located in the South Hall at McCormick Place in Chicago, IL from September 8–13, 2014.  (http://www.methodsmachine.com/)



The full range of precision machine tools from Methods including YASDA, KIWA-Japan, Nakamura-Tome, FANUC, FEELER and SIGMA will feature the following new machine tool lines, models, demonstrations, capabilities and advanced automation:



New line of YASDA Precision Machining Centers making their U.S. trade show debut including an H40i-24PLS 5-Axis High Precision Machining Center for exceptional repeatability and accuracy, a YMC 430 5-Axis Micro Center featuring linear motor driven controlled axes and a highly rigid structure for the highest speed, precision and surface quality machining in its class, two Heavy Duty Vertical Jig Boring-Milling Machines including the YBM 640V3 3-Axis and v40i 5-Axis models and a YBM7Ti 2-Pallet Horizontal 5-Axis Machine. Methods will also unveil a newly designed YASDA machine that is the result of close collaboration between Methods and YASDA engineers to meet the requirements of the North American market.

  

YASDA , the elite Japanese builder of machining centers and jig borers has earned a reputation of preeminence in accuracy, precision and quality.  In order to ensure the utmost in quality and precision, YASDA Precision uses only YASDA machines to build their own machine tools. With meticulously hand-scraped surfaces and superior machine construction, YASDA's extremely high precision stands alone. 



KIWA Horizontal Machining Centers including a newly expanded line of KIWA Horizontal Machining Centers.  The new, competitively priced KIWA-Methods KMH Series now offers pallet sizes ranging from 300 mm to 1,250 mm. The new, compact KMH-300 30-Taper,15,000 RPM, 300 mm dual pallet machine and new KMH-630B 50-Taper, 10,000 RPM, 630 mm dual pallet changer model will be among the KIWA machines on display.  In addition, the KIWA-Japan KH-Series will feature the introduction of the KH-55 500 mm dual pallet model, with 10k RPM, Cat 50 Taper and a newly expanded 240 Tool ATC.  The next generation KH-45 Series will also be introduced, including the new KH-4500 shown as a PC6 version with increased rapid rates to 74m/min and a newly developed "ball drive system" for the 4th axis which provides no backlash, resulting in higher rigidity and longer axis life.



Nakamura-Tome Multitasking Turning Centers on display will include the NTJ-100 twin spindle with a B-Axis upper turret and Y-Axis lower turret, which will be making its first appearance at IMTS.    Also being demonstrated, the NTY3-250 Multitasking Turning Center offering three high rigidity turrets, each with a Y-axis of 4.4 inches (112 mm) – the longest Y-axis in its class.



The new AS-200 High Performance Multitasking Turning Center features a single spindle, single turret with Milling and Y-Axis as standard, in a heavy duty and compact machine for exceptional value.  The AS-200 will be shown in a Methods Lathe JobShop Cell offering a pre-engineered, flexible cell, ideal for manufacturers who want to incorporate automation into their operations for the first time. 



And now available to Nakamura users, a new FANUC control with WINDOWS 8.0 software provides an easy-to-use, powerful touch screen with access to full programming and troubleshooting manuals on a large 19-inch screen. For easy-to-use and reliable support, Nakamura includes comprehensive "NT-Nurse" software that provides user-friendly operation, programming and production support, and facilitates easy part set-ups with no fixtures required.  For safety, overload detection via an airbag greatly reduces any impact due to machine collision.  Nakamura multitasking turning centers are equipped with the CAMplete TruePath Turn / Mill software suite.  CAMplete Truepath software allows several machine tool, tooling and workholding parameters to be analyzed and optimized using detailed 3-D Nakamura turning center models.



FANUC RoboDrill Machining Centers including numerous FANUC D-Series RoboDrills featuring FANUC's most sophisticated control, the 31iB series, will be under power at IMTS.  The widely popular and reliable FANUC RoboDrills will be demonstrated with a Pallet Changer model including a 4th-Axis shuttle package which allows for longer unattended operation or quick part change over.  A D21LiA 5-Axis machine featuring the RTT-112 direct drive Tilt/Rotary Axis linear table from Tsudakoma will be shown.  Additionally, there will be a demonstration of the versatile and lightning-fast FANUC DDR-T Linear 4th Axis with tailstock and trunion fixture.  Several uniquely designed automation solutions will also be featured, including a RoboDrill Twin Cell with vision loading  and a  5-Axis JobShop Cell.



FANUC RoboCut Wire EDMs featuring the FANUC RoboCut á-CiA Series including the C400iA and C600iA Wire EDMs with several new and innovative capabilities. A first in the industry, new volumetric taper compensation (TPCMP) with 4-Axis over burn control is being introduced on the FANUC RoboCut á-CiA Series with a CNC FANUC Series 31i-WB control.  This new taper compensation feature offers enhanced taper accuracy and works with any material, thickness or angle within machine specifications.  A new single access, easy-to-use FANUC-built CCR Rotary Table is now available on FANUC RoboCut EDM's offering the lowest priced rotary table available on an EDM today.  The new rotary table also offers a water leak monitoring function that shuts the machine down upon water detection, to minimize water-related repairs.



FEELER High Performance Milling and Turning Centers including the new  FT-250SY 4-Axis Milling Lathe which will be making its North American debut at IMTS. A unique capability in its class, the FT-250SY features a true Y- axis with 100mm (+/- 50mm) of travel.  An  8-inch sub-spindle is offered in addition to the primary 10-inch spindle, providing more capacity on the FT-250SY.    Also, the new SBM 2000 Universal Milling Machine with articulated head and integrated 4th Axis will be among the nine FEELER machines on the floor. The FEELER High Performance line includes Vertical Machining Centers, Turning Centers including Vertical Turning Lathes and Bridge / Boring mills, all which will be demonstrated at IMTS this year.



New SIGMA TANDEM Line of palletized VMC's are being introduced at IMTS, featuring the new SIGMA TANDEM 6A machining center that provides in one platform tremendous flexibility for job shops and OEM's.  SIGMA is one of four quality Italian machine tool builders (SIGMA, JOBS, Sachman and Rambaudi) that Methods is introducing in the U.S.   



Automation will include several pre-engineered automation solutions including the popular RoboDrill JobShop Cell featuring 5-Axis machining and efficient part loading / unloading, ideal for aerospace and medical manufacturers. A RoboDrill Twin Cell featuring two FANUC RoboDrills being serviced by a single robot and optimizing loading / unloading time will be under power.



Learn about "Automation for Lower Volume Parts" during the presentation by Methods' Automation Manager John Lucier at the Systems Integration IMTS Technology Conference on Tuesday, September 9 at 10:00 a.m. – 10:55 a.m. in the WEST Building - Level 1.



Current EDM with be demonstrating CNC EDM Drilling of small holes on the CT-400 machine.  Metrology solutions will include the VisionGauge® Digital Optical Comparator 500 and new 700 and 400 Series. The VisionGauge 700 Series is a full 5-Axis inspection and measurement system ideal for the aerospace industry. And making its debut at IMTS, the 400 Series VisionGauge® Digital Optical Comparator is a cost-effective solution well-suited for low-volume applications.  Attendees can also learn about the array of Applications, Automation, Parts, Service, Tooling and Training solutions offered by Methods, as well as Financing specials and Services.



Methods Machine Tools, Inc. has been a leading supplier of precision machine tools, automation and accessories for over 55 years, providing extensive applications engineering support, installation, parts, service and training through a network of large state-of-the-art technology centers and dealers throughout North America.  For more information, please contact Methods at 65 Union Avenue, Sudbury, MA 01776, TEL: (978) 443-5388, FAX: (978) 440-9405, Email: 

[email protected]

or visit their website at www.methodsmachine.com.