Methods Named Exclusive North American Importer of Feeler Machine Tools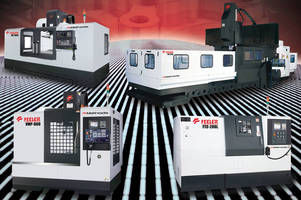 Announcement coincides with Introduction of All-New Line of High Performance Machine Tools.

Sudbury, MA, U.S.A. - Methods Machine Tools, Inc., a leading supplier of innovative precision machine tools, has announced effective today, that they are the exclusive importer of Fair Friend Group's (FFG) FEELER line of machine tools throughout North America. FFG (Taipei, Taiwan) is one of the largest machine tool manufacturers in the world. Methods has simultaneously introduced a totally new range of FEELER machines that feature extensive engineering by Methods, designed to provide users unsurpassed performance and value. The full range of machines encompasses Vertical Machining Centers, Turning Centers, Bridge Mills and Boring Mills.

The Methods-FEELER line of machine tools will be available at Methods Technology Centers and at Methods distributors located across the U.S., in addition to Methods dealers in Canada and Mexico.

"We are very pleased to have the FEELER product line. This new lineup of machine tools is the result of our Methods engineering group working very closely with FFG/Feeler to meet the needs of the U.S. customer" said Mr. Bryon Deysher, President and CEO of Methods Machine Tools, Inc. "FEELER will enable us to offer North American manufacturers a wider selection of precision machining solutions and will complement our existing line of high-performance milling, turning, drilling/tapping and EDM systems very well."

"We are pleased to have Methods as our exclusive North American importer. Their applications expertise, support, and extensive network of technology centers will help us aggressively penetrate the North American Marketplace," said Mr. Jimmy Chu, Chairman and CEO of FFG. "We are excited about the agreement and are looking forward to establishing a long and mutually successful partnership."

Globally, FEELER Machines have earned a reputation for quality and performance, innovative design and rigid construction. The Methods-FEELER product line spans a complete range of Vertical Machining Centers, Lathes, Double Column Bridge Mills and Boring Mills. The following machines will be offered:

Vertical Machining Centers:

Linear guideway design: VMP Series Models offered from 580 to 1,100mm X-axis travels

High performance HV Series will be offered in 800 or 1,000mm x-axis travels

Boxway construction design: available in 40 or 50 taper, VB Series models offered from 900mm to 2,200mm X-axis travels

CNC Lathes/ Turning Centers:

Linear guideway design: FTC Series Models offered with 6 and 8 inch chucks

Boxway construction design: FT Series Models offered from 8 to 21 inch chucks

High performance Turning Centers: HT-30 Series, available in (3) configurations: (1) - HT-30MC - a power milling turret machine, (2) - HT-30Y - configured with a power milling turret and a Y-axis, and (3) - HT-30SY - configured with a power milling turret, Y-axis, and a sub-spindle. The HT-30 Series Turning Centers feature 10 inch chucks.

Double Column Bridge-Style Machining Centers:

Standard or high-speed: FV Series, available in X-axis travels starting at 2,160mm and ranging to 7,200mm and Y-axis ranging from 1,400 to 4,000mm.

Boring Mill models:

Ultra high precision, FBM Series: available with 110mm or 130mm quill, up to 4,200mm X-axis travel. The FBM, R Series Boring Mills feature a built-in, fully programmable rotary table in 0.001° increments.

In the next few months, FEELER machines will be set up for demonstration at Methods Technology Centers. A complete lineup will be on display and under power at IMTS in Booth #'s S-9136, S-9119 in Chicago, IL, September 13-18, 2010.

Fair Friend Group, established in 1979, is one of the world's largest machine tool builders and has major manufacturing operations in Taiwan, China, Japan and the U.S.A. FEELER is known for rigorous quality control and has invested significantly in highly advanced manufacturing equipment and research and development.

Methods Machine Tools, Inc. has been a leading supplier of precision machine tools and accessories for over 50 years, providing extensive applications engineering support, installation, parts, service, and training through a network of large state-of-the-art technology centers and dealers throughout North America. For more information, please contact Methods at 65 Union Avenue, Sudbury, MA 01776, TEL: (978) 443-5388, FAX: (978) 440-9405, Email: sales@methodsmachine.com or visit their website at www.methodsmachine.com.

More from Electronic Components & Devices