Methods Machine Tools and Yasda Unveil High Precision, 5-Axis Machining Center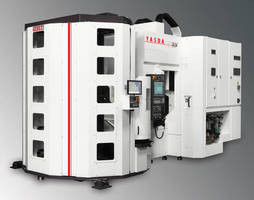 Methods-YASDA PX30i is Ideal for OEMs and Job Shops with a Broad Range of Manufacturing Requirements.

See the New Methods-YASDA PX30i in Booth S-9119 at IMTS 2014, Chicago's McCormick Place.



Chicago, IL U.S.A. — Today at IMTS 2014 in Chicago, Methods Machine Tools, Inc., (www.methodsmachine.com) a leading supplier of innovative precision machine tools, automation and accessories, introduced an all-new  Methods-YASDA 5-Axis High Precision, Automated Vertical Machining Center, the PX30i, featuring exceptional quality, flexibility and economy to meet challenging OEM and job shop requirements.  The new Methods-YASDA PX30i features extensive design and engineering from Methods in a 5-Axis machining center manufactured by YASDA, the premier Japanese builder of machining centers and jig borers with a reputation of preeminence in accuracy, precision and quality. (www.methodsmachine.com)



"After extensive collaboration between Methods and YASDA engineers, we are extremely proud to unveil the new Methods-YASDA 5-Axis PX30i at IMTS today," said Mr. Steve Previti, YASDA Product Manager.  "Working together during the design and manufacture of this new machining center for our market, we focused on precision, reliability and versatility, all at a cost-effective price.  The PX30i offers the precision and accuracy expected from YASDA, and will be supported by Methods' outstanding sales, service and support organization. The PX30i will be a production workhorse for customers with the most demanding accuracy, quality and production requirements."



"By Partnering with Methods to design the Methods-YASDA PX30i,  we are able to offer customers a unique, high precision machining solution, supported by Methods' comprehensive infrastructure that provides outstanding applications and automation expertise," said Mr. Takuto Yasuda, President of YASDA Precision Tools K.K.



The PX30i features a newly designed, YASDA in-house built, direct-drive spindle with self-adjusting preload, which is designed based on Yasda's proven, renowned spindle technology to improve performance and increase spindle life. The new spindle features the torque, speed and horse power to facilitate the efficient machining of a wide range of materials from aluminum to high temperature alloys, including Inconel, titanium and steels with high HRC ratings. 



At the core of the PX30i is a robust 2-Axis rotary table, offering flexibility and speed with a wide range of movement.  Providing high efficiency and accuracy to operators with a wide range of performance requirements, the B and C-Axes feature a direct-drive motor with advanced thermal stability.  Robust bridge and bed designs have been built upon YASDA designs that have long been the choice for the superior metal removal capabilities and high rigidity required for precision machining.  The machine table and work envelope are sized for ease-of-operation. 



The PX30i offers a turnkey automated machining center solution designed to answer a wide range of manufacturing requirements for OEMs and job shops such as a high volume, low mix of parts or a low volume, high mix of parts with differing lot sizes, part geometries and materials.  Offering manufacturers the ability to do lights-out or unattended manufacturing, the new Methods-YASDA PX30i features a full complement of 32 pallet positions storage and 1 in the work zone for a total of 33.   The Automatic Tool Changer (ATC) and Automatic Pallet changer (APC) features a Methods-developed software program for efficient tool / pallet management and advanced scheduling functions.  The ATC can be retrofitted for additional tool capacities of up to 500.  To maximize valuable floor space, the PX30i offers a footprint of 25 ft. (length) by 11 ft. (width).



In 2013, Methods announced their new partnership with YASDA , the premier Japanese builder of machining centers and jig borers with a reputation of preeminence in accuracy, precision and quality.  In order to ensure the utmost in quality and precision, YASDA Precision uses only YASDA machines to build their own machine tools. With all mated surfaces meticulously hand-scraped, unparalleled straightness, accuracies and superior machine construction, YASDA's extremely high precision stands alone.  Methods represents YASDA across the U.S. and will be bringing local application, sales support expertise to YASDA customers.



Methods Machine Tools, Inc. has been a leading supplier of precision machine tools, automation and accessories for over 55 years, providing extensive applications engineering support, installation, parts, service, and training through a network of large state-of-the-art technology centers and dealers throughout North America.  For more information, please contact Methods at 65 Union Avenue, Sudbury, MA 01776, TEL: (978) 443-5388, FAX: (978) 440-9405, Email:  sales@methodsmachine.com or visit their website at www.methodsmachine.com.

                                                                   

More from Mechanical Components and Assemblies