Methods Announces First Order for KIWA-Japan Machining Center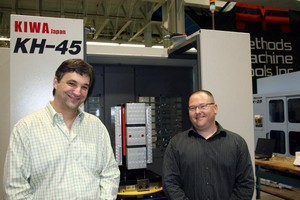 SUDBURY, MA. U.S.A. (August 8, 2008) - Methods Machine Tools Inc., a leading supplier of innovative precision machine tools, today announced it has obtained its first order of a KIWA KH-45 Horizontal Machining Center. Only several weeks ago on July 15, Methods was appointed as the exclusive importer of KIWA- Japan Horizontal and Vertical Machining Centers for North America. The KIWA system was sold to Proteus Manufacturing Company, Inc., a growing state-of-the-art job shop located in Woburn, Massachusetts.

"The new KIWA machining center is going to allow us to become more productive and competitive," commented Mr. John Tamulynas, President of Proteus Manufacturing. "To be truly successful in this marketplace it's important to move from traditional VMC's to more profitable HMC's, and adopt lights out manufacturing. The KIWA will help us accomplish this. We are looking forward to working with Methods' support team and applications experts to ramp up to production quickly." "We are off to a great start and are very pleased to have our first KIWA being installed at Proteus. They are an example of a good company becoming a great one, embracing technology and automation to ensure their success." said Mr. Scott McIver, Chairman and VP of Product Development at Methods.

KIWA's exclusive in-the-field expandable tool and pallet technology, feature-rich package and cost-effective pricing, brings the profits of horizontal machining within a job shop's reach. Expandability allows shops to upgrade from a 2-pallet horizontal machine with 120 tools to a 6 or 8-pallet machine with 220 tools. The KIWA KH-41 and KH-45 Horizontal Machining Centers feature a 400 mm pallet. The KH-45 has an ample work envelope of 29.5" diameter by 39.4" h and the KH-41 features a compact footprint and work envelope of 21.7" diameter by 33.5" h.

The KIWA line also includes Vertical Machining Centers. The versatile KIWA Triple V21i VMC's are designed for a wide variety of applications. The Triple V21i features a lazy susan pallet changer for fast work changing in high production environments. Systems feature powerful cutting force, high-speed rapid traverse, machine automation and convenient chip disposal. For maximum value, reliable KIWA Machining Centers are loaded with features, speed, accuracy and rigidity, plus reduced set-up time.

KIWA, an established high quality machine tool builder headquartered in Nabari, Japan, has been in business since 1869 and began exporting their products to Europe and North America in 1981.

Methods Machine Tools, Inc., has been a leading supplier of precision machine tools and accessories for nearly 50 years, providing installation, parts, service, and training through a network of dealers throughout North America.

For more information about Methods and KIWA, please contact: Mr. Scott McIver, Chairman & Vice President of Product Development, 65 Union Avenue, Sudbury, MA 01776, TEL: (978) 443-5388 x506, FAX: (978) 440-9405, Email: sales@methodsmachine.com or visit their website at www.methodsmachine.com.


More from Electronic Components & Devices