Methanol Injection Packages prevent hydrate formation.
Press Release Summary: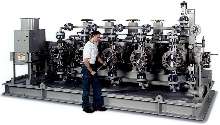 Packages can be supplied in various configurations that provide up to 17,500 psi with flow rates up to 100 gpm for inhibiting hydrate formation in pipelines and wellhead of offshore platforms. Hermetically-tight, sealless diaphragm pumps isolate process fluid from hydraulic system. Available configurations include manual or automated stroke length control, speed control, and fixed volume delivery, with continuous injection (gas lines) and intermittent injection (oil).
---
Original Press Release:
Methanol Injection Packages Prevent Hydrate Formation in Pipelines and Wellhead
A series of methanol injection packages for offshore platforms that are designed to prevent hydrate formation within the pipelines and wellhead are being introduced by American LEWA, Inc. of Holliston, Massachusetts. LEWA Methanol Injection Packages can be supplied in a variety of configurations that provide up to 17,500 psi with flow rates up to 100 GPM for inhibiting hydrate formation in the pipelines and wellhead of offshore platforms. Featuring hermetically-tight, sealless diaphragm pumps to isolate the process fluid from the hydraulic system, these packages can be built to fit the platform footprint and other customer requirements. Available configurations for LEWA Methanol Injection Packages include manual or automated stroke length control, speed control, and fixed volume delivery, with continuous injection for gas lines and intermittent injection for oil. These leak-tight pumps have two PTFE diaphragms that are sandwiched and operate in balance to provide double containment with zero-leakage, run-dry tolerance, and overload protection. LEWA Methanol Injection Packages are priced from $ 25,000.00 up, depending upon customer requirements. Literature and pricing are provided on request. For more information contact: American LEWA, Inc.
Joseph F. Murray, Sales Manager Packages
132 Hopping Brook Rd. / P.O. Box 6820
Holliston, MA 01746
(888) LEWA123 or (508) 429-7403
FAX (508) 429-8615
e-mail: sales@amlewa.com
www.amlewa.com
More from Software