Metering Analog Front End promotes accurate measurements.
Press Release Summary: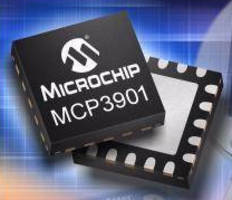 Supplied in 20-pin SSOP, MCP3901 offers sample rates up to 64 ksps for single- and multi-phase metering, industrial, and medical applications. Precision measurements are made possible via integration of dual 16-/24-bit Delta-Sigma ADCs with up to 91 dB Signal to Noise and Distortion (SINAD); internal PGAs and voltage reference; phase-delay compensation; and modulator output block. SPI interface provides connection to MCU and allows adjustment of ADC oversampling ratio.
---
Original Press Release:

Metering Analog Front End (AFE) from Microchip Technology Enables Highly Accurate Measurements



MCP3901 AFE Includes Dual 16-/24-bit ADCs, Integrated Voltage Reference, Programmable Gain Amplifiers and Phase-Delay Compensation

CHANDLER, Ariz., Oct. 12, 2009 [NASDAQ: MCHP] - Microchip Technology Inc., a leading provider of microcontroller and analog semiconductors, today announced its next-generation Analog Front End (AFE) for metering applications. The MCP3901 AFE features high-accuracy, dual 16-/24-bit Delta-Sigma Analog-to-Digital Converters (ADCs) with up to 91 dB Signal to Noise and Distortion (SINAD); internal Programmable Gain Amplifiers (PGAs) and voltage reference; phase-delay compensation; and a modulator output block, enabling more precise measurements than competitive solutions. With its unique feature set, high-speed sample rates up to 64 kilosamples per second (ksps) and SPI interface, the MCP3901 AFE is ideal for a variety of single- and multi-phase metering, industrial and medical applications. To watch a video about the MC3901 AFE and MCP3901 Evaluation Board (part # MCP3901EV-MCU16, $80), visit: http://www.microchip.com/get/400866780092593

Integrated PGAs and a low-drift voltage reference enhance the MCP3901 AFE's ability to measure signals at very small levels, and reduce the number of external components needed. This enables smaller overall designs at lower costs. The phase-delay compensation block enables the MCP3901 AFE to compensate for differences in phase for three-phase energy-metering applications, while the SPI interface provides a simple connection to a microcontroller (MCU) and offers engineers more flexibility with their design. Additionally, through the SPI interface, designers can adjust the ADC oversampling ratio to control the resolution and sample rate as dictated by the needs of the application.

"The need for accurate metering applications is on the rise in various regions around the world, and Microchip is pleased to expand its mixed-signal metering product family with the MCP3901 AFE, which simplifies the development of metering, power monitoring and instrumentation applications," said Bryan J. Liddiard, marketing vice president of Microchip's Analog and Interface Products Division. "This AFE enables engineers to develop high-precision applications, combined with the flexibility to adjust the resolution and speed to meet the needs of their designs."

Example applications for the MCP3901 AFE include utility meters (e.g. single and multi-phase electricity meters); industrial (e.g. power monitoring and instrumentation); and medical applications (e.g. blood glucose meters, pulse oximeters).

Development Support
Microchip also announced today the MCP3901 Evaluation Board (part # MCP3901EV-MCU16, $80), which enables access to the MCP3901 through various test points, and to a computer through a serial interface. Via user-interface software on their computers, engineers can view the performance of the MCP3901 AFE using various analysis parameters such as SINAD, Effective Number of Bits (ENOB), Total Harmonic Distortion (THD), and Signal-to-Noise Ratio (SNR). The evaluation board can be purchased today, at http://www.microchip.com/get/400786822569444.

For additional design support, visit Microchip's online Utility Meter Design Center (http://www.microchip.com/get/400736125). This comprehensive site provides engineers with all of the technical tools and resources needed to create accurate, reliable and low-cost utility metering applications, including energy, water, and gas and heat meters.

Packaging, Pricing & Availability
The MCP3901 AFE is available in a 20-pin SSOP package, for $1.42 each in 10,000-unit quantities. Samples can be ordered today from microchip.com/get/400736265162037, and the device can purchased today from www.microchip.com/get/400736172222222. For further information, contact any Microchip sales representative or authorized worldwide distributor, or visit Microchip's Web site at http://www.microchip.com/get/40095393912037.

About Microchip Technology
Microchip Technology Inc. (NASDAQ: MCHP) is a leading provider of microcontroller and analog semiconductors, providing low-risk product development, lower total system cost and faster time to market for thousands of diverse customer applications worldwide. Headquartered in Chandler, Ariz., Microchip offers outstanding technical support along with dependable delivery and quality. For more information, visit the Microchip website at http://www.microchip.com/get/400736278935185.

Note: The Microchip name and logo are registered trademarks of Microchip Technology Incorporated in the U.S.A. and other countries. All other trademarks mentioned herein are the property of their respective companies.

Photos and Block Diagram available through editorial contact or Flickr (feel free to publish):
Product Photo
http://www.microchip.com/get/400805645601852
Block Diagram
http://www.microchip.com/get/400805658680556
Evaluation Board
http://www.microchip.com/get/400805674421296

Video available through YouTube or Editorial Contact (feel free to embed on your Web site): http://www.microchip.com/get/400866780092593

Webinar available on Microchip's Web site at:
http://www.microchip.com/get/400874379050926

RSS Feed for Microchip Product News: http://www.microchip.com/get/400736289467593

More from Electronic Components & Devices