Meter facilitates testing of molybdate formulations.
Press Release Summary: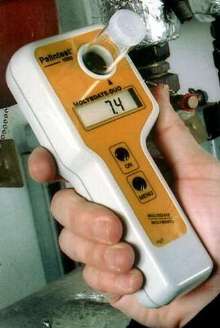 Used as corrosion inhibitor in industrial water treatment, battery-powered Molybdate Duo Meter features pushbutton measurement functionality and incorporates 10 mm LCD display and automatic switch-off. It tests concentration levels from 0-100 mg/l MoO4 as well as trace amounts as low as 0.10 ppm in 0-20 mg/l MoO4 range. Splash-proof unit, suited for bench or field use, is supplied as complete test kit with reagents.
---
Original Press Release:

Molybdate Meter Makes Tests Fast and Easy


Erlanger, KY: Water analysis specialist Palintest has developed a new meter for the accurate testing of molybdate formulations. Used as corrosion inhibitors in industrial water treatment, the Molybdate Duo Meter makes it simple to test high concentration levels. It also makes it easy to test trace amounts, an increasingly important test for effluents and industrial discharges.

Molybdate based formulations are frequently used in cooling systems, closed recirculating systems such as water heating systems, and chilled water systems. Low levels of molybdate are also mixed in with other boiler and cooling water products for the determination of levels in a system. For example, a 1.5 to 2.0 ppm level may indicate 100 ppm of product.

The splash proof Molydate Duo is suitable for bench use in laboratories, or for field use by sampling engineers or contractors. It measures high levels of molybdate in the range 0-100 mg/l MoO4, and measures trace levels as low as 0.10 ppm in the range 0-20 mg/l MoO4 (0-12 mg/l Mo)

The instrument is very easy to use. Reagent tablets are dissolved in a water sample. This is then inserted in the meter and a single button press produces a measurement on an easy-to-read, 10mm LCD display. Powered by two 1.5V batteries, which should last for 20,000 readings, the meter has automatic switch-off. It is supplied as a complete test kit including reagents, and optional check standards can be used to confirm factory calibration settings.

Palintest USA, 21 Kenton Lands Road, Erlanger, Kentucky 41018

Company contact:
Terri McHugh
Tel: (800) 835 9629
Fax: (859) 341 2106
E-mail: info@palintestusa.com
Web site: www.palintestusa.com

More from Electronic Components & Devices