Meter displays current and volts in AC line applications.
Press Release Summary: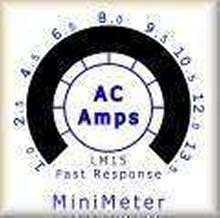 MiniMeter Model LM15 features integral display and current transformer housed in water-clear polycarbonate shell less than 1 in. square. It provides display of AC load currents up to 15 A for 50 or 60 Hz service. Display is self-powered so no additional or external components are required. Electrical connections are made by quick-connect blade terminals, and panel mounting uses single brass spring retainer with anti-slip feature for secure mounting.
---
Original Press Release:

Avatar Engineering Corporation New MiniMeter Product Announcement


Unique, Low Cost, Self-Powered, Panel Mounted LED MiniMeters Replaces fragile "analog-mechanical" and "expensive digital" panel meters that display Current and Volts in AC line applications. CUL Certified. Full Specs & Apps at avatarengineer.com/

Model LM15: Integral display and current transformer, housed in a rugged water-clear polycarbonate shell less than 1 inch square, provides display of AC load currents up to 15 Amperes for either 50 or 60 Hz service. 5 Amp (LM5) and 20 Amp (LM20) models are also available. All models can be factory scaled. LM15 can be provided as LM12 or LM16 for Euro applications and LM20 can be provided as LM18 to LM25.

The display is self-powered so no additional or external components are required. No batteries or power supplies are needed to activate the display as it transforms a tiny portion of the load current to illuminate the display's colorful LEDs. LED segments may have custom configured colors for volume orders. The LM15 is C-UL Listed/Double Insulated and available with CE marks to meet all safety requirements World-Wide. Patent(s) Pending. A companion model VM120 provides display of Line Voltage from 50 to 150 VAC.

All Minimeters can be installed without tools. Electrical connections are made by quick-connect blade terminals and panel mounting uses a single brass spring retainer with an anti-slip feature for secure mounting. Panel cut-out required is the standard square opening (0.97") as used for utility AC sockets. Any panel thickness from 1/32 to 5/16 inch can be accommodated. Gasket and solid potted housings are available options for hazardous environments or sealed applications.

Intended to replace fragile Analog mechanical meters and more expensive digital meters, these Minimeter products provide rugged, accurate, low cost alternatives (1K price $20, 10K+ pricing under $15) in a smaller package well suited for these applications;

o Power Distribution Units (PDUs),
o Industrial Control Panels,
o Service Panels
o Marine and Automotive Dashboard displays
o OEM Product Panel Metering

Custom Pad Printing of meter face is available to provide panel color matching and logo markings meeting the volume customer's needs. Standard two color Pad Printing is an available option for all meters. DC and transducer signal metering models also available soon!

Visit avatarengineer.com/minimeters/ for details. Short-cut URLs are www.minimeter.net, LM15.com, and VM120.com

Coming this Summer, website soon to be updated: MiniPilots !

Panel Indicator Lamps in the same convenient housing as MiniMeters !

Bright Red, Yellow, Green, 12V, 24V, 48V AC/DC

$12.50 <1K add $1 ea. for Pre-Printed text & graphics on face
(minimal tooling charge for OEM custom pad printing applies)

About Avatar Engineering Corporation; incorporated in 1997 as an electronics and power product development firm, is a privately held U.S. corporation selling World-Wide with all design and manufacturing of its products within the continental United States. 301 Newbury St. #200 Danvers, MA 01923 (978) 590-7060 email: sales@avatarengineer.com

Local representatives and distributors may be found at our website on our Contacts page;http://avatarengineer.com/

More from Architectural & Civil Engineering Products