Meter/Dispense System provides dual-channel fluid control.
Press Release Summary: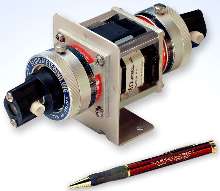 Ratio:Matic® Series Dual Head Dispensers and Metering Pump consists of 2 FMI independently adjustable pump heads direct coupled to variable-speed drive. Single rotating and reciprocating ceramic piston accomplishes both pumping and valving functions without valves. Pump-head size combinations allow dispensing ratios from 1:1 to 1,000:1. Product enables dispensing as low as 2 µL per dispense, as well as proportional metering of 2 fluids into one fluid stream at up to 4 Lpm continuous flow.
---
Original Press Release:

Ratio:Matic Dual Dispensing & Fluid Metering!


"Two Heads are Better Than One"

The Ratio:Matic® Series of Dual Head Dispensers & Metering Pumps from Fluid Metering ,Inc. provide precise dual channel fluid control for a broad range of process, production, laboratory, and OEM.

Applications include instrumentation in food, medical diagnostics, electronics, analytical chemistry, & environmental monitoring.

Ratio:Matic® pumps consist of two FMI pump heads direct coupled to a single variable speed drive. Each pump head is independently adjustable, and a variety of pump head sizes can be used in combinations to achieve dispensing ratios from 1:1 up to 1000:1. Ratio:Matic® pumps are ideal for dual channel dispensing as low as 2 µL per dispense, as well as proportional metering of two fluids into a single fluid stream up to 4 L/min continuous flow. Controlling two pump heads with a single drive motor and controller provides simplicity of control, as well as, significant cost savings.

The unique design of FMI's CeramPump® utilizes one moving part, a rotating and reciprocating ceramic piston to accomplish both pumping and valving functions without valves. The piston and mated liner are made of dimensionally stable, sapphire-hard ceramics which ensure long term, drift-free accuracy of 1% or better for millions of maintenance-free cycles.

The Ratio:Matic® Series of pumps are available in AC, DC and stepper motor drive configurations. Controllers are available ranging from simple process and quick start stepper control to programmable intelligent stepper drivers. To learn more about Ratio:Matic pumps and controllers, visit FMI's web site at: www.fmipump.com and enter "ratio" into the site search window.

Fluid Metering is certified as compliant with ISO 9002 quality standards. For additional information on Ratio:Matic pumps, Call toll free 800-223-3388 or 1-516-922-6050, FAX 1-516-624-8261, email: pumps@fmipump.com or visit our website at www.fmipump.com and enter "Ratio" into the site search window.

Fluid Metering, Inc.
5 Aerial Way - Suite 500
Syosset, NY 11791USA

More from Controls & Controllers