Metcal is a Premier Sponsor of the IPC APEX EXPO Hand Soldering World Championship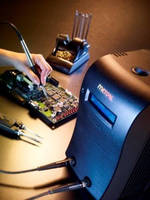 GARDEN GROVE, CA - Metcal has announced that it is a premier sponsor of the fifth annual IPC APEX EXPO® Hand Soldering World Championship, scheduled to take place March 16-17, 2016 at the Las Vegas Convention Center during the IPC APEX EXPO. Competitors from around the world will compete for a cash prize of $1,000 presented by the IPC.



Jerry Simmons, Marketing Manager, commented, "Metcal is pleased to again sponsor the IPC APEX Hand Soldering Competition and to promote high quality soldering standards within the electronics industry."  



During this competition, champions from around the world will compete to build a functional electronic assembly in 30 minutes. Assemblies will be judged on soldering in accordance with IPC-A-610E criteria, the speed at which the assembly was produced, and overall electrical functionality of assembly. IPC-A-610E Master Instructors will serve as the judges.



In further support of the competition, Metcal will feature the MX-5200 Soldering System that will be used in the competition in its booth (#3412).  Competition participants are welcome to stop by the booth to get familiar with the system beforehand if they are not already. Experts from the Metcal team will be available at the booth to provide best practice advice and equipment demonstrations.



For more information about the competition, visit:

http://www.ipcapexexpo.org/html/show-floor/hand-soldering-competition-championship.htm



For more information about Metcal, visit www.metcal.com.



About Metcal



Since 1982, Metcal has been a recognized worldwide leader in the electronics assembly marketplace. As part of OK International, Metcal's industry-leading position addressing advanced technology in conduction soldering and rework/repair, has and will continue to broaden to a full electronics bench tool single-source solution. Metcal product lines currently include: hand soldering and desoldering, convection rework products, fume extraction and fluid dispensing tools. For more information, visit www.metcal.com.