Metasys® Enterprise Management Platform supports BACnet IP communications.
Press Release Summary: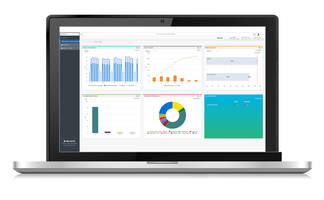 Metasys® Enterprise Management Platform is used to analyze building energy and equipment data. Unit is suitable for Metasys building automation system and energy meters. Product features automatically collects, analyzes and display information and comes with out-of-the-box dashboards. This management platform offers actionable insight through the fault detection and diagnostic feature.
---
Original Press Release:
New Metasys® Enterprise Management Platform from Johnson Controls Turns Building System Data into Actionable Insights
Helps customers get the most out of their building investments
Johnson Controls introduces Metasys® Enterprise Management, a comprehensive, analytical, cloud-based optimization platform that proactively analyzes building energy and equipment data across an enterprise to identify issues, faults and opportunities for improved performance and operational savings.
Metasys Enterprise Management works with the Metasys building automation system, other building automation systems and energy meters that support BACnet IP communications to extract otherwise overwhelming amounts of data and transmit it securely to the cloud where it is turned into actionable information.
Energy Management features automatically collect, analyze, and display information for all configured physical meters and virtual meters located in a facilities operation. Energy demand and consumption is aggregated and displayed using intuitive, out-of-the-box dashboards.
Powerful analytics root out energy and equipment-related problems 24x7. Metasys Enterprise Management also provides actionable insight through the Fault Detection and Diagnostic (FDD) feature, as part of the add-on Equipment Management feature set. This highly effective feature allows building operators to take corrective action through FDD-driven work orders.
The Asset Maintenance feature allows users to generate and track work orders and maintenance actions, check service report feedback and status, and measure performance of maintenance teams via key performance indicators -- all from a single platform.
The Kiosk feature provides a customizable, interactive display that uses energy data so customers can promote, inform and educate building stakeholders on building system performance, sustainability efforts and more.
"Metasys Enterprise Management helps customers close the loop by providing a single platform solution that identifies a fault, suggests the appropriate corrective action, lets users create a work order and then track progress toward the solution," said Sudhi Sinha, vice president of Data-Enabled Business, Johnson Controls. "The result is reduced time on task, extended equipment life and lower energy costs. Just as important, Metasys Enterprise Management provides users with a way to demonstrate payback on building investments."
Metasys Enterprise Management is easy to configure and use, making it almost immediately operational. Its system architecture is scalable to the facility's energy needs and equipment monitoring requirements, able to accommodate buildings and systems of varying complexity, size and scope. And because Metasys Enterprise Management is provided and activated through cloud-based licenses with a variety of subscription options, it can meet any organization's budget and needs and ensure customers can easily stay current with frequent updates and enhancements.
To learn more about Metasys Enterprise Management, please visit www.johnsoncontrols.com/buildings/building-management/MEM. For additional information about Johnson Controls, visit www.johnsoncontrols.com.
About Johnson Controls
Johnson Controls is a global diversified technology and multi-industrial leader serving a wide range of customers in more than 150 countries. Our 120,000 employees create intelligent buildings, efficient energy solutions, integrated infrastructure and next generation transportation systems that work seamlessly together to deliver on the promise of smart cities and communities. Our commitment to sustainability dates back to our roots in 1885, with the invention of the first electric room thermostat. We are committed to helping our customers win and creating greater value for all of our stakeholders through strategic focus on our buildings and energy growth platforms. For additional information, please visit http://www.johnsoncontrols.com
About Johnson Controls Building Technologies & Solutions
Johnson Controls Building Technologies & Solutions is making the world safer, smarter and more sustainable – one building at a time. Our technology portfolio integrates every aspect of a building – whether security systems, energy management, fire protection or HVACR – to ensure that we exceed customer expectations at all times. We operate in more than 150 countries through our unmatched network of branches and distribution channels, helping building owners, operators, engineers and contractors enhance the full lifecycle of any facility. Our arsenal of brands includes some of the most trusted names in the industry, such as Tyco®, YORK®, Metasys®, Ruskin®, Titus®, Frick®, PENN®, Sabroe®, Simplex® and Grinnell®. For more information, visit www.johnsoncontrols.com
Related