Metalwërks' Sculpted™ 3D Ribbon Irrigated Planter Wall System Enhances Vanderbilt University Building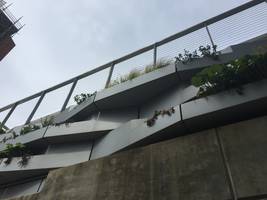 Integrated wall assembly provides visual signature
KENNETT SQUARE, PA… The Vanderbilt University Medical Center recently expanded to include a new hospital tower in Nashville. As part of the building's design, the architectural team with Blair + Mui Dowd Architects wanted to incorporate a living wall into the structure.
Approximately1,500 square feet of the Metalwërks Sculpted™3D Ribbon irrigated planter wall system was selected and specified to serve as a transition point between a plaza connecting two adjacent buildings on the university campus, while incorporating green elements to transition from a planted area above.
"In this case, the living assembly was mounted to a retaining wall which was a transition from a heavily landscaped plaza area between two campus buildings. The living wall product was used to provide dramatic accents to enhance the lower level entrance space from the plaza area above" says Stephen Scharr, Director of Business Development for Metalwërks.
Sculpted 3D Ribbon, with the incorporated greenery, enables a smooth transition from the planted space above, down the façade entrance, while visually-enhancing the retaining wall that flanks the area.
"The planted wall turns 90 degrees onto the building façade and terminates above the entry roof to create an attractive architectural feature over what would have been an otherwise plain area," says Scharr.
Metalwërks' Sculpted 3D dry-set rainscreen system features three complementary and interchangeable wall panel design schemes that produce the boldest three-dimensional forms possible. The 100% solid metal system is engineered for easy integration with LED lighting and features opportunities to incorporate other ornamental design elements including integrated planters and irrigation for growing vegetation.
Sculpted 3D may be installed over continuous masonry, concrete, or as the outer cladding in a wall assembly that incorporates continuous insulation and a suitable air and water barrier. The system is also ideal for interior applications such as lobbies and atriums or any special gathering area.
The Sculpted 3D components were shipped to the university in July 2018, and installation was completed in January of 2019 Blair + Mui Dowd Architects were responsible for architectural design services, and the general contractor was Robins and Morton.
To view high-definition, interactive renderings of Metalwërks Sculpted 3D Ribbon panels, visit: https://metalwerksusa.com/product/sculpted-3d/#design_schemes
About Metalwërks:
Founded in 1968, Metalwërks is the leading U.S. manufacturer of precision high-performance metal plate exterior facade systems, integrated curtain wall components, and custom architectural features. The company works in close collaboration with top architects to achieve new levels of form and function in systems precision-manufactured from solid metal plate. Metalwërks is unparalleled in the quality, diversity, integrity and reputation of its systems, services, and employees. For more information, visit: www.metalwerksusa.com.
Contact: Miriam Lamey, LarsonO'Brien
Phone: 412-831-1959 x123 E-mail: [email protected]