MetalMaster® Continues to Support Aerospace Industry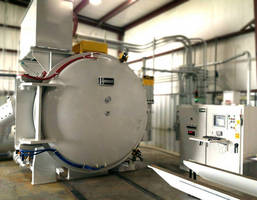 CHERRY VALLEY, IL – A company in southern Singapore, specializing in the repair and refurbishment of commercial jet engine turbine airfoils, recently acquired an Ipsen 2 bar MetalMaster® vacuum furnace.

"Customers often look to the MetalMaster line due to its sustained relevance and reputation in the industry," says Craig Moller, Ipsen's Chief Engineer, "It works well and it will continue to work well, and that's what people respond to."

MetalMaster is known around the world as a reliable, proven technology. Ideal for aircraft brazing and other high vacuum applications, this vacuum furnace line performs distinctively well with thin section parts and lighter pieces, as are often found in these industries.

The recently sold unit, an HR-50 MetalMaster, is one of the more popular MetalMaster sizes, along with the HR-34 and the HR-26, with standard load size dimensions of 24" x 24" x 48" (610 mm x 610 mm x 1,219 mm) and 24" x 18" x 36" (610 mm x 457 mm x 914 mm), respectively. However, there is a wide variety of models from HR-20 to HR-66 with weight capacities ranging from 400 pounds (181 kg) to 5,000 pounds (2,268 kg). In addition to offering a variety of sizes to support differing workloads, the MetalMaster features excellent temperature uniformity with superior pumping capability to produce consistently clean and repeatable results.

MetalMaster's body and design are built to stand the test of time, while incorporating all the current and modern controls that are a staple of Ipsen products. With superior longevity combined with the ability to stay compliant, it has shown itself to be a continued asset in the Aerospace industry.

For repeatable, dependable brazing performance, be secure in your choice with Ipsen's MetalMaster. For more information, or to request a quote, visit ipsenusa.com/metalmaster or email sales@ipsenusa.com.

About Ipsen
Ipsen designs and manufactures industrial vacuum furnaces, atmosphere furnaces and supervisory control systems for a wide variety of markets including: Aerospace, Commercial Heat Treating, Medical, Energy and Automotive. With production locations in Europe, America and Asia, along with representation in 34 countries, choosing Ipsen means choosing a partner in success. Ipsen is constantly pushing the boundary of possibilities and innovating a future of thermal processing excellence. For more information, visit www.IpsenUSA.com.
More from Communication Systems & Equipment