Metallographers at BMW Rely on EcoMet 30 Polishers by Buehler in Sample Preparation of Metals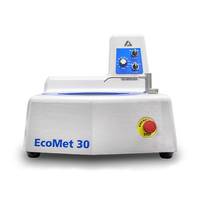 Esslingen/Germany– Buehler, an ITW Company and leading global manufacturer of high-performance consumables and equipment for materials testing, delivered six EcoMet 30 grinder-polishers to BMW Group's Materials and Process Analytics Technology department located at their Dingolfing plant. The new grinder-polisher systems, which were introduced to the market in late 2017, are used mostly in quality control, which the laboratory performs on a variety of metals and metallic components, manufactured both in-house and by suppliers.
In the BMW laboratory, the EcoMet 30 grinder-polishers operate around six hours every day, preparing up to 50 samples per unit. Even with this high sample throughput, no compromise can be made in terms of consistency and quality of results. According to Wolfgang Brand, Head of Microscopy in the laboratory, the major features which caused BMW to opt for the single, non-automated system variant were high ease of operation, robust design and fast cleaning, all of which ensure highly efficient and low-maintenance operation over a long period of time.
"Our testing challenges in the areas of ongoing quality control and development are most varied, and accordingly there are many variants to the preparation, measurement and analysis procedures we perform", says Wolfgang Brand. "In addition, testing schedules are often tight, for example, when we have to handle a large number of samples parallel to production. For both these reasons, we require highly trained laboratory staff. Equally important, however, are reliable preparation systems which support our work by reducing the time we spend to a minimum. This enables us to ensure that results are available according to schedule even under challenging conditions, and will stand up to validation. Buehler's new EcoMet grinder-polishers meet our expectations in every respect. In addition, the positive experience we made with Buehler's service team throughout the decision-making process leads us to anticipate customer-focused, timely and efficient support aligned to our needs in the future."
In addition to the single platen models now taken into service at BMW, EcoMet 30 grinder-polishers are also available in a twin platen version. Both models are offered for manual or semiautomatic operation. All models accept platens with diameters of 8" [203 mm], 10" [254 mm] or 12" [305 mm]. Speed can be varied incrementally within a range from 50 to 500 rpm. In the case of the automated versions, frequently used functions can be accessed from a touch screen interface with 7" LCD color screen, without time-consuming navigation through complex menus. The grinder-polisher's head is equipped with a separate drive which rotates the specimen holder, accommodating up to four round samples with dia­meters of 25, 30 or 40 mm, in a direction opposite the direction of the platen at a speed of 30 to 200 rpm.
Tim Sunderbrink, Sales Manager at Buehler, adds: "EcoMet 30 stands for highest reliability along with advanced time-saving features for grinding and polishing. Cleaning to avoid cross-contamination is facilitated by the easy-to-remove platen and the straight drain system. With intuitive operation, an easily removable sample holder and a swing-out head, automated versions additionally save time when accessing samples between preparation steps. Thanks to their advanced features, all EcoMet 30 grinder-polisher models provide high sample throughput and maximize productivity in the test laboratory."
Buehler – ITW Test & Measurement GmbH, Esslingen/Germany, since 1936 has been a leading manufacturer of instruments, consumables and accessories for metallography and materials analysis and also supplies a comprehensive range of hardness testers and hardness testing systems. A tight network of branch offices and dealers means our customers can depend on professional assistance and service around the world. The Buehler Solutions Center in Esslingen and further centers of this kind in Europe and elsewhere can offer all kinds of assistance with application questions or with devising reproducible preparation procedures.
Buehler is part of the Test and Measurement Segment of the US company Illinois Tool Works (ITW) with some 100 decentralized business units in 52 countries and around 51,000 employees.
Editorial contact and voucher copies:
Dr.-Ing. Jörg Wolters, Konsens PR GmbH & Co. KG,
Hans-Kudlich-Straße 25, D-64823 Groß-Umstadt – www.konsens.de
Tel.: +49 (0) 60 78 / 93 63 - 0, Fax: - 20, Email: mail@konsens.de
ITW Test & Measurement GmbH
Boschstraße 10, D-73734 Esslingen am Neckar
Contact: 
Joan.Braunbarth@buehler.com
Tel. (0)711-490 4690-0
More from Computer Hardware & Peripherals