Metallized-Film Capacitors have current ratings to 150 A.
Press Release Summary: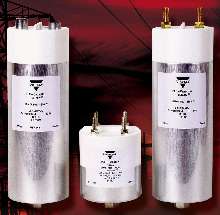 Heavy-duty ESTA HDMKP power capacitors serve as solutions for dc and ac filtering and for dc linking in UPS and in power converters. Inductance is less than 50 nH, dissipation factor is less than 8 x 10
-4
@ 1 kHz, and resistance is less than 5 milliohms. Offered in 6 voltages from 900-2700 Vdc and 220-660 Vac, devices have capacitance values from 40-1100 µF. Shock- and vibration-resistant units incorporate non-polar dielectric housed in aluminum/lathene casing with dry resin filling.
---
Original Press Release:

New Heavy-Duty, Metallized-Film Power Capacitors Offer Current Ratings up to 150 A and Low Self-Inductance in Compact, Easy-Mounting Radial Design


MALVERN, PENNSYLVANIA - June 16, 2003 - A new series of heavy-duty, metallized-film power capacitors with current ratings as high as 150 A and very low self-inductance was announced today by Vishay Intertechnology, Inc. (NYSE: VSH).

The new Vishay ESTA HDMKP series devices serve as low-cost capacitor solutions for dc and ac filtering and for dc linking in uninterruptible power supplies and in power converters for traction and industrial drives.

In addition to exceptionally low inductance and high current ratings, the new HDMKP capacitors offer extremely low losses at high frequencies, low ESR, and high reliability and life expectancy in a compact design.

Inductance for the new capacitor series is less than 50 nH, and the devices' dissipation factor is less than 8 x 10-4 at a frequency of 1 kHz. An advanced metallized film on the capacitors' polypropylene dielectric enables the devices to offer a high RMS current rating, while series resistance of less than 5 mÙ allows them to reduce ohmic losses.

HDMKP capacitors are available in six standard voltages from 900 V to 2700 V (dc) and from 220 V to 660 V (ac), with voltages up to 4800 V (dc) available on request. Capacitance values range from 40 µF to 1100 µF, with a capacitance tolerance of ±5%. Non-standard capacitance values also are available to designers on request.

Heavy-duty resistance to shock and vibration, as well as a reliability rating of 300 FIT, contribute to the devices' lifetime expectancy of 100,000 hours at +60°C at rated voltages. Devices in the HDMKP series are specified for an operating temperature of -40°C to +70°C at full rated voltage, or up to +100°C at half of the rated voltage, and meet IEC 61071-1, EN 61071, IEC 68-2, and IEC 61881 standards. Terminal-to-terminal test voltage is 1.5 times the rated dc voltage for 10 seconds.

Capacitor height options range from 105 mm to 260 mm, with a standard diameter of 84.4 mm. The devices' non-polar dielectric is housed in an aluminum/lathene casing with a dry resin filling. An integrated M12 stud at the capacitor base enables easy mounting.

Samples and production quantities of the new HDMKP series capacitors are available now, with lead times of eight weeks. Pricing for U.S. delivery in 50,000-piece quantities starts at $5.00 per piece.

Vishay, a Fortune 1,000 Company listed on the NYSE, is one of the world's largest manufacturers of discrete semiconductors (diodes, rectifiers, transistors, optoelectronics, and selected ICs) and passive electronic components (resistors, capacitors, inductors, and transducers). The Company's components can be found in products manufactured in a very broad range of industries worldwide. Vishay is headquartered in Malvern, Pennsylvania, and has plants in sixteen countries employing over 25,000 people. Vishay can be found on the Internet at www.vishay.com.

More from Packaging Products & Equipment