Metalcraft Unveils RFID Fixed Asset Products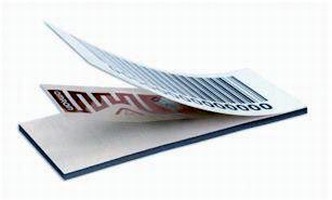 Metalcraft today announced pricing and an expansion of their standardized RFID product constructions aimed at speeding production and lowering cost for customers seeking durable RFID tags and labels for fixed and mobile assets. The four standard constructions - adhesive labels, flag tags, hang tags, and mount-on-metal labels - are available immediately.

The new flag tag, an adhesive label with a non-adhesive, folding tab that offsets the inlay, is especially useful for blade servers and other metal-surfaced assets or liquid storage containers.

Prices vary by construction and quantity; a complete price list is available at www.idplate.com or by request at 800-437-5283.

"Metalcraft's standard constructions build on seven years of experience engineering custom, durable RFID labels for fixed and mobile assets," said Metalcraft president Steve Doerfler. "The flag tag and the other designs are refined product constructions that we've standardized in order to deliver them faster and at a lower cost."

Metalcraft's four standard RFID product constructions are intended for use and re-use in demanding environments and offer read ranges up to 25 feet. Each product is customizable with variable data printed on the subsurface and programming of the RFID inlays. The standardized RFID products feature inlays from Alien, Avery Dennison, Rafsec and KSW Microtec.

"Metalcraft continues to develop custom RFID products using whatever materials the customer and situation requires," said Doefler. "Metalcraft is known as an RFID converter that adds a lot of value; we continue to be a resource for integrators and end users who have RFID challenges requiring custom solutions."

Visit www.idplate.com or call 800-437-5283 for more information on Metalcraft RFID labels.


More from Electrical Equipment & Systems