Metal-Stitching as a Stronger Alternative to Welding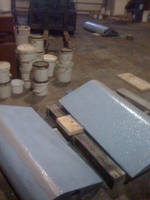 Recently Pumpcoat had a repair and coating project for a series of wicket gates from a hydro unit. Some of the gates had cracks in the metal. Rather than employ the traditional welding for repair, Pumpcoat contracted repair specialists who used a technique called Metal-Stitching. As Cast metals are very difficult to weld, the Metal-Stitching technique is a great alternative. This procedure involves using stitching pins to fill in and seal the cracks and metal locks to splint the crack horizontally. The end result is a much stronger repair than welding. The repaired gates were then coated and put back into service. The Metal-Stitching process is seamless and can be used on a variety of cast metals. Repairs can be done on many different metal parts or pieces of equipment.

If you are in need of Metal Repair or would like more information

please contact Pumpcoat at 508-540-5878 or email sales@pumpcoat.com.

More from Services