Metal Sorters reclaim and segregate valuable metals.
Press Release Summary: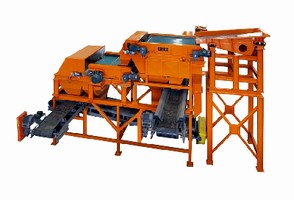 Using ProSort and FineSort(TM), scrap handlers can recover nearly 90% of metals passing through scrap yard. Airless Prosort uses metal sensors aligned with electromagnetically driven paddles to separate valuable metals from waste. Able to recover metals less than 1 in. diameter, FineSort receives discarded fines that have passed through initial screening process and uses magnetic components to separate ferrous and non-ferrous metals from fines waste.
---
Original Press Release:

Eriez® Revolutionary ProSort and FinesSort(TM) Metal Sorters are Environmentally-Friendly Solutions for Maximum Metal Recovery



Erie, Pa.- Eriez® ProSort and FinesSort(TM) Metal Recovery Systems reclaim and segregate valuable metals from discarded materials that would typically be destined for landfill. With the integration of ProSort and FinesSort, scrap handlers can recover nearly 90 percent of the metals passing through their yards, AND segregate that metal to maximize its value.

"We are extremely proud to introduce our newest eco-friendly equipment for the recycling industry, ProSort and FinesSort," said Tim Shuttleworth, Eriez President and CEO. "We strive to manufacture cost-effective, state-of-the-art equipment that meets customers' processing challenges while helping to reduce the environmental impact of those processes." He continued, "With their innovative, superior designs, ProSort and FinesSort do just that."

ProSort improves metal separation while operating at a fraction of the cost of air power metal sorters. Ideal for the scrap metals market, the patent-pending ProSort airless metal recovery system uses high sensitivity metal sensors aligned with low energy electromagnetically driven paddles to separate valuable metals from waste material.

ProSort's unique modular design and alignment of sensors, paddles and controls allows the components to operate in different modes during a single cycle. Dual mode segregates waste material, ferrous metals, non-ferrous and stainless steel in a single operation.

With ProSort's electromagnetic "Six Pack" paddle system, customers save up to 75 percent of the typical cost of operating a standard 125HP air compressor plant.

Eriez' new FinesSort Metals Recovery System is the ultimate in fine particle metal reclamation. FinesSort's series of powerful magnetic components recover valuable ferrous and non-ferrous metals from the fines waste stream in scrap yards. This system not only reduces the amount of waste destined for landfill, but reclaims thousands of pounds of metals per day.

Eriez' FinesSort receives the discarded "fines" material that has passed through the initial screening process and separates the ferrous and non-ferrous from the fines waste. Impressively, FinesSort recovers metals less than 1-inch diameter.

According to Eriez, ProSort and FinesSort Metal Recovery Systems can easily pay for themselves within months of start-up.

Eriez is recognized as world authority in advanced technology for magnetic, vibratory and inspection applications. The company's magnetic lift and separation, metal detection, x-ray, materials feeding, screening, conveying and controlling equipment have application in the process, metalworking, packaging, recycling, mining, aggregate and textile industries. Eriez manufactures and markets these products through eleven international facilities located on six continents. For more information, call toll-free (888) 300-ERIEZ (3743) within the U.S. and Canada. For online users, visit www.eriez.com or send e-mail to eriez@eriez.com. Eriez World Headquarters is located at 2200 Asbury Road, Erie, PA 16506.

More from Packaging Products & Equipment