Metal Halide Tank Light includes aluminum base stand.
Press Release Summary: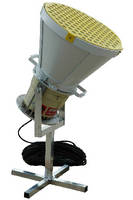 Certified for hazardous locations, Model EPL-24BS-1X4-100 is equipped with 400 W metal halide lamp that produces 36,000 lm in wide beam pattern capable of reaching up to 200 ft in length. Portable explosion proof unit features removable light head measuring 23 7/8 in. in  diameter and aluminum lamp guard that protects against impact and debris. Supplied with 100 ft of SOOW cord, light is suited for illuminating interior of large containers, tanks, and ship holds during cleaning/maintenance.
---
Original Press Release:

Larson Electronics Magnalight.com Adds Portable Metal Halide Tank Light with Light Weight Base Stand



Larson Electronics' Magnalight.com has announced to day the addition of an explosion proof tank light designed for easy deployment and high output. The EPL-24BS-1X4-100 Explosion Proof Portable Base Stand Tank Light is a Class 1 Division 1 Groups C & D approved unit that provides the versatility of portable operation and an adjustable lamp assembly coupled with the high output of metal halide lighting.



The EPL-24BS-1X4-100 explosion proof metal halide tank light from Magnalight.com is an explosion proof tank light featuring a high power metal halide lamp and light weight aluminum base stand. Providing 20,000+ square feet of work area coverage with 36,000 lumens of light output, this tank light is ideal for illuminating the interior of large containers, tanks and ship holds during cleaning and maintenance operations. This portable tank light is designed to be easily transported and set up inside tanks and containers with a removable light head measuring 23 7/8 inches in diameter so it can fit through the standard 24 inch man ways normally found on these entries. The light weight aluminum base stand provides high stability and can be removed from the light head, the lamp and stand passed through an entryway, then the unit reassembled once inside. The metal halide lamp is a 400 watt unit that produces 36,000 lumens and a flood of light in a wide beam pattern capable reaching up to 200 feet in length. The lamp can be adjusted vertically for optimum beam placement, and a heavy duty aluminum lamp guard provides protection against impacts and debris that could otherwise fall on the lamp. This explosion proof tank light carries Class 1 Division 1 and Class 1 Division 2 certification for hazardous locations and is suitable for use in environments where flammable gases and vapors are present. Magnalight.com also includes 100 feet of SOOW cord fitted with an explosion proof plug, providing ample length for maneuvering the unit about the work place and a secure and safe connection at power sources. The EPL-24BS-1X4-100 explosion proof tank light is an ideal lighting solution for operators on hazardous locations who need high power illumination that can be easily transported through the limited size opening found on industrial and commercial storage tanks and containers. Magnalight.com offers these units in standard 120 VAC configurations for convenience and also offers optional 240 VAC versions for use with higher voltages.



"We have taken one our most powerful explosion proof lights and put on a pedestal mount for operators that don't need the elevation of our quadpod mount," said Rob Bresnahan with Larson Electronics' Magnalight.com.  "This makes the EPL-24BS-1X4-100 easy to transport and position outside the operator's direct field of view."



Larson Electronics' Magnalight produces a full range hazardous location lights, explosion proof LED work lights, portable work lights, explosion proof flashlights and LED trouble lights. The Larson Electronics family of brands can be found on Magnalight.com, LXFlashlights.com and Larsonelectronicsllc.com. You can also call 1-800-369-6671 to learn more about all of Larson Electronics' lighting products or call 1-214-616-6180 for international inquires.

Related