Metal Halide Downlights come in choice of apertures.
Press Release Summary: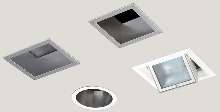 Downlights use T4, T6, and ED17 ceramic metal halide lamps and are offered with apertures from 4 and 6 in. round and square to 4 x 6 in. and 6 x 9 in. rectilinear. T4 Downlights include vertical style and recessed adjustables, while T6 Downlights also come in horizontal and Wall Washer styles. ED-17 Downlights are offered in vertical, horizontal, Wall Washer, and adjustable Wall Washer versions. All Downlights are offered with 40° lockable tilt and 358° rotation.
---
Original Press Release:
Amerlux Lighting Solutions Expands Power of One Program Introduces Comprehensive Line of Metal Halide Downlights

FAIRFIELD, NEW JERSEY--- Integrating impeccable architectural styling with incomparable lighting performance and function, Amerlux Lighting Solutions introduces a comprehensive line of New Downlights. The Downlights feature specially designed optics, using T4, T6 and ED17 ceramic metal halide lamps; and apertures ranging from 4 _" and 6" round and square to 4 _" x 6" and 6" x 9" rectilinear apertures, which maximize the light output and performance for a given size. Amerlux, a "2004 Lighting Supplier of the Year" award winner continues to expand its Power of One approach: creating multiple lighting effects using multiple luminaire types, all while using one lamp type.

The T4 Downlights include: Vertical Downlights designed with round and square 4 _ " apertures; Recessed Adjustables (featuring a 40-degree lockable tilt and 358-degree rotation in a variety of beam spreads) with round and square 4 _ " apertures; and new Horizontal Downlight, Wall Washer and Adjustable Wall Washer with rectilinear 4 _" x 6" apertures. The T4 Downlights use the compact T4 G8.5 bi-pin ceramic metal halide lamp with 20W for 6,000 hours of life, and 39W and 70W with a 9,000-hour lifespan.

The T6 Downlights include: Vertical Downlights in round and square 4 " and 6" apertures; Recessed Adjustables (featuring a 40-degree lockable tilt and 358-degree rotation) in round and square 4" and 6" apertures; new Horizontal Downlights and Wall Washers with 4" x 6" and 6" x 9" rectilinear apertures; and Adjustable Wall Washers with 4" x 6" apertures; the 6" Round Semi-Recessed Accent Light and Wall Washer; the Adjustable Elbow Accent (offering a 45-degree tilt and 350-degree rotation) in a 6" round aperture; and Multiple Recessed Adjustables (with lockable vertical tilt and 358-degree rotation) in single-lamp 8"x 8", two-lamp 8" x 16", and three-lamp 8"x 20" rectilinear aperture sizes. The T6 Downlights use the compact T6 G12 bi-pin ceramic metal halide lamp, with 39W and 70W for the 4" apertures and Multiple Recessed Adjustables; and 39W, 70W and 150W for the 6" apertures, all with a long life of 12,000 hours.

The ED-17 Downlights include: Vertical Downlights in 6" round and square apertures and 10" round apertures; Recessed Adjustables (with a 40-degree lockable tilt and 358-degree rotation) in round and square 6" apertures; new Horizontal Downlight, Wall Washer and Adjustable Wall Washer in 6" x 9" rectilinear apertures; and Adjustable Pull-Down Accent Light in the 8" round aperture. The ED-17 lamp is offered in wattages of 50, 70, 100 and 150, with a life of 16,000 hours.

All of these new downlights include the option of specially tinting the reflectors in Sunrise or Ferric Gold which enable them to warm the light to incandescent-like hues.

ABOUT AMERLUX LIGHTING SOLUTIONS

Awarded "Lighting Supplier of the Year" by Chain Store Age magazine and the ACE Award by Architectural Lighting Magazine, Amerlux Lighting Solutions is an independent, privately held company which has been a leader in designing and manufacturing flexible, high-performance lighting that adapts to the varied and evolving needs of the retail, supermarket, commercial and hospitality environments. Since 1984 Amerlux has focused on task-specific designs that deliver the right light for each application with the lowest energy consumption, utilizing the following product categories: Track, Recessed, Pendants, Linear Systems, Power Systems and custom designs.

For more information, contact:

Amerlux Lighting Solutions

23 Daniel Road East

Fairfield, NJ 07004-2527.

T: 973-882-5010 F: 973-882-8970

Website: www.amerlux.com

E-Mail: mail@amerlux.com
More from Electronic Components & Devices