Metal Finishing-Plating targets flexographic industry.
Press Release Summary: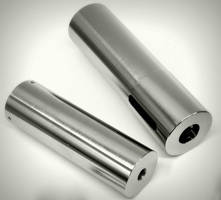 Offered in medium and high phos, corrosion-resistant Electroless Nickel coating (MIL-C-26074, AMS-C-26074, ASTM B733, AMS 2404) is available for use on doctor blades, cylinders, rollers, large plates, rotors, and web guiding systems. Process results in smooth finish and is able to plate parts up to 1,500 lb and 10 ft long. Painting and powder coating are also available, along with hard coating, anodizing with colors, and MIL-A-8625 Type II and III options.
---
Original Press Release:

Paramount Metal Finishing-Plating for Flexographic Industry



PARAMOUNT METAL FINISHING is a state-of-the-art modern plating and painting facility with the capabilities to plate parts up to 10 feet in length for the FLEXOGRAPHIC INDUSTRY.



Paramount offers ELECTROLESS NICKEL an extremely durable corrosion resistant coating used on:

• Doctor Blades

• Cylinders

• Rollers

• Large Plates

• Rotors

• Web Guiding Systems



FLEXOGRAPHIC INDUSTRY

• Electroless Nickel in medium and high phos

• MIL-C-26074, AMS-C-26074, ASTM B733, AMS 2404

• High corrosion resistance

• Smooth finish

• Plate parts up to 1500#

• Plate parts up to 10 feet in length. 

• Painting and Powder Coating

• Hard coating, Anodizing with colors, MIL-A-8625 Type II and III



Paramount Metal Finishing www.pmf1.com

1515 West Elizabeth Ave, Linden, NJ 07036

T: 908-862-0772 F: 908-862-9477

Email: bnegrin@pmfnj.com

More from Software