Metal Filler prepares parts for powder coating.
Press Release Summary: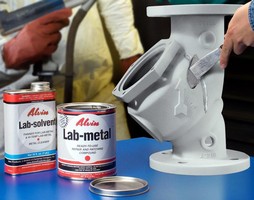 Lab-Metal® Repair and Patching Compound repairs dents and voids, smoothes weld beads, and hides cracks or other surface blemishes/imperfections on cast or stamped metal parts. Applied with putty knife, single-component solution adheres to any metallic surface, requires no mixing, and air dries. It can be milled, drilled, tapped, machined, sanded, and coated after hardening and baked in curing oven at 425°F for 20 min. High-temperature (1,000°F) version is also available.
---
Original Press Release:

Metal Filler Prepares Parts for Powder Coating



A single-component metal repair and patching compound that requires no mixing, applies easily, can be sanded and then powder coated and baked or simply painted is available from Alvin Products of Everett, Massachusetts.

Lab-Metal® Repair and Patching Compound is a metal filler that repairs dents and voids, smoothes weld beads, and hides cracks and other surface blemishes or imperfections on cast or stamped metal parts. Ideal for preparing parts to be powder coated, this one-component filler applies with a putty knife, air dries, can be sanded, and then sprayed and baked in a curing oven.

Providing an effective method for making cosmetic repairs prior to metal finishing, Lab-Metal® Repair and Patching Compound is ready to use right out of the can and adheres to any metallic surface. Once hardened, it can be milled, drilled, tapped, machined, sanded, coated, and baked at 425°F for 20 mins. A Hi-Temp Lab-Metal® version that withstands 1,000°F is also offered.

Lab-Metal® Repair and Patching Compound is offered in 6-, 12-, 24-, and 48-oz. cans, 1- and 5-gallon pails, and caulking tubes. Literature and pricing are available upon request.

For more information contact:

Alvin Products,
A Division of Dampney Company, Inc.
Dennis Aikman, Marketing Director
85 Paris St.
Everett, MA 02149
(617) 389-2805 FAX (617) 389-0484
e-mail: dennis@dampney.com
www.alvinproducts.com

More from Test & Measurement