Metal Detector withstands harsh sanitation environments.
Press Release Summary: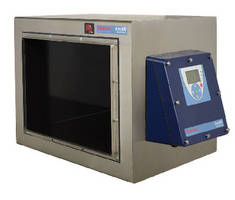 With operating life of 10+ years, APEX HD withstands extreme temperature cycling typically experienced in fresh food processing and sanitation environments. System can operate in cold rooms kept between 35–40°F and withstand wash down at temperatures up to 150°F several times per day without degradation. In addition to optimized case design and aperture filling technique, detector features control panel with one-way vent that allows any trapped humidity to escape.
---
Original Press Release:

Thermo Fisher Scientific Introduces Thermal Shock-Resistant Metal Detector



Independent testing projects 10-year life in the harshest sanitation environments



MINNEAPOLIS  – Thermo Fisher Scientific Inc., the world leader in serving science, today announced what is believed to be the first long-life, heavy-duty (HD) wash down metal detector that goes significantly beyond traditional IP69K ratings (the international standard for high pressure, high temperature wash down). Thermo Fisher developed the APEX HD to withstand extreme temperature cycling typically experienced in fresh food processing and sanitation environments.



Metal detectors used for meat, poultry, seafood, dairy and produce applications are typically operated in cold rooms kept between 1 to 5 degrees Celsius (35 and 40 degrees Fahrenheit). As part of standard sanitation procedures, these units also are subjected to wash down at temperatures of up to 65 degrees Celsius (150 degrees Fahrenheit) several times a day. 



The combination of thermal shock and wash down water pressure can causes cracks and leaks in the metal detector aperture liner.  This can result in water intrusion and a disturbance of the metal detecting coils causing instability or faults.  Based on customer feedback, metal detectors operating in these extreme conditions have a life expectancy of only a few years, with large repair bills a frequent occurrence.



The new APEX HD has a projected operating life of 10 years or more in this environment, which has been validated by a third-party laboratory. A major meat processor has also field tested the system for the past nine months with no degradation in performance or water ingress.



The APEX HD utilizes a new case design and a proprietary aperture filling technique that gives it additional robustness and stability.  The control panel also has a one-way vent allowing any trapped humidity to escape.  The HD capability will be offered on both the APEX 500 and 300 models.



"For more than six decades, Thermo Scientific metal detectors have set the standard for high performance.  This latest addition to the APEX line is just one more example of how we continuously develop new capabilities to address our most demanding customers' needs," said Bob Ries, lead metal detector product manager, Thermo Fisher.



For more about Thermo Scientific product inspection equipment, please visit: www.thermoscientific.com/productinspection.



About Thermo Fisher Scientific

Thermo Fisher Scientific Inc. is the world leader in serving science. Our mission is to enable our customers to make the world healthier, cleaner and safer. With revenues of $13 billion, we have approximately 39,000 employees and serve customers within pharmaceutical and biotech companies, hospitals and clinical diagnostic labs, universities, research institutions and government agencies, as well as in environmental and process control industries. We create value for our key stakeholders through three premier brands, Thermo Scientific, Fisher Scientific and Unity™ Lab Services, which offer a unique combination of innovative technologies, convenient purchasing options and a single solution for laboratory operations management. Our products and services help our customers solve complex analytical challenges, improve patient diagnostics and increase laboratory productivity. Visit http://www.thermofisher.com.



Sales inquiries:



Thermo Fisher Scientific

Product Inspection

501 90th Avenue NW

Minneapolis, MN 55433 USA

phone: +1 763 783-2500

email: sales.packaging.us@thermofisher.com

www.thermoscientific.com/productinspection





More from Adhesives & Sealants