Metal Detector has multi-frequency capability.
Press Release Summary: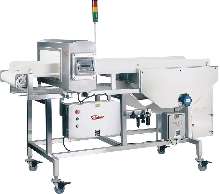 POWERPHASE metal detectors for fresh cut produce industry
is for foodservice and consumer sizes of ready-to-eat salads and vegetables in bags or tubs. Multi-Frequency capability enables single metal detector to run conductive and non-conductive product. Detector helps processors meet guidelines for HACCP implementation and for Vendor Certification requirements. QA personnel may program detector to indicate frequency of manual testing.
---
Original Press Release:

Safeline's Powerphase Metal Detectors for Fresh Cut Produce Handle a Wide Range of Products, Are Capable of Heavy-Duty Washdown


Safeline's POWERPHASE metal detectors for the fresh cut produce industry can handle a wide range of products, from both foodservice and consumer sizes of bagged ready-to-eat salads and vegetables, to tubs of prepared fruit slices, to large polybags of chopped onions destined for ingredient use. Built of stainless steel for heavy duty use and rugged washdown environments, the POWERPHASE offers excellent signal stability and metal detection sensitivity for fresh cut products.

The Multi-Frequency capability of Safeline's POWERPHASE metal detector enables a single metal detector to run conductive and non-conductive product, such as fresh and frozen product, while maximizing detector sensitivity for each product. Before the development of this technology, fresh cut and other produce processors who ran products with differing conductivity either required multiple metal detectors or set the frequency and/or sensitivity at sub-optimal levels to accommodate their most conductive products.

A retracting band reject mechanism removes bags of product cleanly from the production line. Where large bags of product must be inspected, Safeline can customize the aperture size of its POWERPHASE metal detector in order to meet the needs of the fresh cut produce packer.

Safeline's POWERPHASE series of metal detectors also help fresh cut processors meet the stringent guidelines for HACCP implementation and for Vendor Certification requirements. The Performance Validation capability of these metal detectors ensures that agreed sensitivity and test standards are being maintained and to provide automated documentation of HACCP compliance and Vendor Certification Programs. QA personnel may program the detector to indicate how frequently manual testing is required and a signal is automatically given calling for a "Performance Check". If the check is not made within a predetermined time, a secondary signal may be given which sounds an alarm or even stops the production line if the check is not made within a predetermined time. Successfully completing the test returns the detector to normal operating mode. Private access numbers can be allocated to ensure only authorized individuals may test the unit at specified times, reducing the likelihood of falsified reports.

ABOUT SAFELINE: Safeline Metal Detection is the largest metal detector manufacturer in the world, with operations in the USA, UK, and Europe. Safeline provides conveyorized, gravity feed, and pipeline metal detection systems for food, pharmaceutical, chemical, plastics and powder/bulk industries. Safeline's experts provide in-house seminars, training programs and metal detection audits to ensure optimum equipment performance.

For More Information, Contact:

Tony Ross, Commercial Manager
Safeline Metal Detection
6005 Benjamin Road
Tampa, FL 33634 USA
Tel: 813 889 9500
Fax: 813 881 0840
E-mail: sales@safeline.net
metaldetection.com

More from Architectural & Civil Engineering Products