Metal Detectable Plastics for Food Processing & Packaging Industries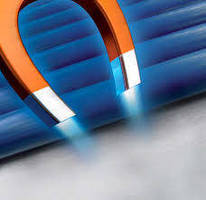 If you are involved with food processing or packaging, Emco can help with right material to suit your needs. The first is a metal detectable grade of Acetal. Acetal (POM) polymer has superb inherent mechanical properties in respect of dimensional stability, strength, stiffness and low wear characteristics. Acetal is suitable for replacing metal parts that are currently fabricated. This new metal detectable grade is color coded in a bright blue tint, it is F.D.A. compliant and remains easy to machine and is dimensionally stable. The product is easily sensed by standard metal detectors and is available in rod form 1/8" to 8" in diameter and sheet thickness from 3/8" to 8". Some typical applications are conveyor belt links or pins, food processing fabricated parts, scrapers, spatulas, and most threaded or turned components.



The second plastic product Emco is proud to offer is a F.D.A. compliant, metal detectable UHMW that has been designed primarily for the food processing industry. Since metal detectable UHMW has high impact strength and has no moisture absorption properties, it fills the food industries need for a reliable, traceable and cost-effective plastic for machined parts. It is available in rod form 1/8" to 8" in diameter and sheet thickness from 3/8" to 8". Typical applications are wear-strips, pillow blocks, guides, scraper blades and mixer components.



The next material Emco has available is metal detectable PEEK. It has a unique set of high temperature and high chemical resistant properties combined with new metal detectable capabilities making it a material of interest for a variety of applications in the food industry. Metal detectable PEEK is made from materials that are FDA, USDA, and 3A Dairy compliant, which opens up a whole new range of higher temperature applications that can serve to further increase food product safety. It is great for machine components for semiconductor, electrical, and medical.



Metal detectable Nylon presents good mechanical strength, stiffness, impact strength and wear resistance, it also features a food contact compliant composition, FDA compliant and 3A-Sanitary-Dairy-Standard approved. This polyamide 6 grade, containing a metal detectable additive, has been specifically tailored for use in the food processing and packaging industries where it can easily be traced by the conventional metal detection systems installed to detect contamination of the foodstuffs (result may vary depending on the sensitivity of the metal detection system used).



Contact your Emco sales rep for more information about any of the metal detectable, F.D.A. compliant plastics we carry at 800-292-9906 or visit our website at www.emcoplastics.com.

Related