Metal-Cored PCB Laminate targets BLU LED light engines.
Press Release Summary: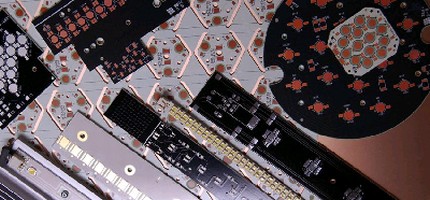 Featuring copper circuit layer and aluminum base plate bonded together with T-lam LLD dielectric, T-lam(TM) SS LLD provides uniform thermal path for consistent output of LED light strips. Dielectric's microstructure allows assembly to withstand thousands of thermal cycles due to CTE mismatch. Laminate is suited for LED lighting applications, specifically LED BLU for TVs and monitors, as well as light engines for streetlights, safety lighting, and general lighting applications.
---
Original Press Release:

Laird Technologies Introduces T-Lam(TM) SS LLD Laminate for Blu LED Light Engines



Metal Core PCB Offers High Performance and a Competitive Price

St. Louis, Missouri, USA - February 14, 2008 - Laird Technologies, a global leader of critical components and systems for advanced electronics and wireless products, today announced its new T-lam(TM) SS LLD, a metal core printed circuit board (MCPCB) laminate for LED applications. This new environmentally-friendly laminate is designed to keep bright and ultra-bright LED light engines burning brighter, longer and uniformly.

Laird Technologies' new T-lam SS LLD features a copper circuit layer and aluminum base plate bonded together with the company's T-lam LLD dielectric. T-lam SS LLD laminates are processed through standard circuit board manufacturing and assembly processes.
Circuit boards designed with T-lam SS LLD allows LED light engines to last longer than competitive materials, and provides a uniform thermal path for consistent output of LED light strips. The dielectric's unique microstructure allows the assembly to withstand thousands of thermal cycles due to CTE mismatch.

"The LED BLU for LCD TVs and street light production will more than triple in 2008," said Robert Kranz, global product director. "Laird Technologies has partnered with ITEQ to provide high volume laminate production for these explosive markets."

T-lam SS LLD is ideal for LED lighting applications, specifically LED BLU for TVs and monitors, as well as light engines for street lights, commercial property safety lighting and general lighting applications.

Laird Technologies has over 15 years experience manufacturing MCPCB laminates. Other products include T-lam 1KA and HTD dielectrics for power and multi-layer applications.
Design samples are available now with mass production beginning in February 2008. The laminate price starts at $0.06 per square inch.

For more information, visit http://lairdtech.com/lld.

About Laird Technologies
Laird Technologies designs and supplies customized performance-critical products for wireless and other advanced electronics applications.

Laird Technologies is a global market leader in the design and supply of electromagnetic interference (EMI) shielding, thermal interface products, signal integrity components, wireless antennae solutions and recently established a growing position in the design and supply of complete radio frequency (RF) modules and systems. These performance critical products, co-designed in conjunction with customers, are essential in enabling and protecting the functionality of electronic devices and wireless applications.

Custom products are supplied to all sectors of the electronics industry including telecommunications, data transfer and information technology, as well as to the automotive, aerospace and defense, consumer electronics, medical and industrial markets.

Laird Technologies, a unit of The Laird Group PLC, employs over 15,000 employees in 41 facilities located in 13 countries.

For additional information or the name of your nearest Laird Technologies' representative contact:
Laird Technologies
Phone +1 (866) 928-8181, 1 + (636) 898-6000
Fax +1 (636) 898-6100
Internet www.lairdtech.com
E-mail sales@lairdtech.com

More from Material Handling & Storage