Metal Core Electrodes are designed for submerged arc welding.
Press Release Summary: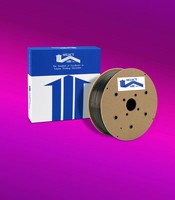 Developed for welding of carbon and certain low alloy steels, Select EM12KS and Select EH12KS feature cored wire design that delivers high deposition rates, and can be utilized with neutral or active fluxes. They have high manganese and silicon content, facilitate bead penetration control, and reduce burn-through on root passes or poorly fit up joints. Applications include welding of structural carbon steels such as A36, A285, A515, and A516.
---
Original Press Release:

New Metal Cored Electrodes Designed for Submerged Arc Welding



Date: March 3, 2008

Fort Loramie, OH - Select-Arc, Inc. has introduced two tubular metal cored electrodes that are designed for submerged arc welding only.

Select EM12KS and Select EH12KS were developed for the welding of carbon and certain low alloy steels. Both electrodes feature a cored wire design that delivers higher deposition rates than solid wire when run at the same current level. They also provide better control of bead penetration than solid wire and reduce burn-through on root passes or poorly fit up joints.

Select EM12KS and Select EH12KS (which has higher manganese and silicon content for improved performance over rust and mill scale) may be utilized with neutral or active fluxes. They can be substituted anywhere a corresponding solid wire (EM12K or EH12K) is used. Applications for both electrodes include the welding of structural carbon steels such as A36, A285, A515 and A516.

For more information on Select EM12KS and Select EH12KS, contact Select-Arc at 1-800-341-5215 or visit our website at www.select-arc.com.

From: Select-Arc, Inc.
Phone: (800) 341-5215
P. O. Box 259
Fax: (888) 511-5217
Fort Loramie, OH 45845-0259
www.select-arc.com

Contact: Mike
Tecklenburg

More from Material Handling & Storage