Metal Compactor/Briquetter minimizes coolant use and waste.
Press Release Summary: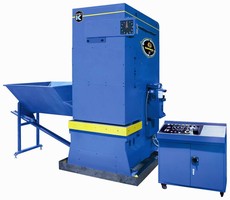 Utilizing 30 hp main motor, Model 1200 Chipmunk compacts up to 1,200 lb of chips per hr. High-volume system produces dense aluminum chips with its 8:1 compaction ratio. Aluminum material and coolant are saved, as is floor space for storing and handling scrap and coolant. Machine is suited for small- and large-scale chip producing operations.
---
Original Press Release:

New Kurt Chipmunk Metal Compactor/Briquetter Opens New Doors to Precision Machining Cost Savings and Better Manufacturing Practices



Produces $180 Per Hour For Compacted Chips While Saving 50 Percent On Coolant Costs

Minneapolis, Minnesota: Kurt Manufacturing Company developed its Model 1200 "Chipmunk" compactor because its machining operations saw huge "cost giveaways" for both its aluminum scrap and coolant.

"We were using coolant costing $16,000 a month for a precision machining job of a large heat sink component," reports William Kuban, CEO. "We weren't recycling any of the coolant. Also, we were handling chips in the traditional way by selling them to scrap dealers as they accumulated in drums with much of the coolant mixed in with the chips. It suddenly dawned on us that between the chips and coolant, we were "giving away" a lot of money. That was 5 years ago and out of that revelation was born our Chipmunk Compactor/Briquetter. The Chipmunk system gave us $180 an hour higher profit yield for the compacted chips versus not compacting them. Also, we cut our coolant costs in half on that heat sink machining job. We saved $8000 a month alone in coolant costs by compacting the chips and in the process recovering a significant amount of the coolant which was filtered and reused."

Not An Ordinary Compactor, Chipmunk Opens New Doors To Precision Machining Cost Savings And Better Manufacturing Practices
The Chipmunk's design concept is based on more than just a high profit return for a small investment. According to Kuban, "The Chipmunk's design is a major conservation device as well as machine profit center. This Chipmunk system compacts up to 1200 lbs of chips an hour, which averages $180 more an hour for compacted briquettes versus not compacting them. Add to that the coolant recovered and you're up to $250 an hour. Plus the conservation benefits, which are enormous. Aluminum material is saved. Coolant is saved. Floor space for storing and handling scrap and coolant is saved. The shop is neater and cleaner. Most important, machine operators develop a new attitude toward scrap and material conservation. Everyone benefits including the environment because waste is minimized."

Chipmunk Is Designed For Both Large And Small Machining Operations
"Over a 5 year period, we worked with leading precision machining companies to develop a patented system that would outperform anything on the market while producing a higher return," said Kuban. "The engineering challenges were many, but the Chipmunk is truly a system designed and built with the user's needs in mind, because early users in effect became part of our design team suggesting refinements to the system. As such, the Chipmunk is equated as another profit-producing machine just like a machining center or a milling machine. Our new Model 1200 Chipmunk compactor allows the user to turn scrap and recovered coolant into immediate profit at a rate equaling and even exceeding the productivity of the best machining centers in these ways":

o System produces very dense aluminum chips which yield highest market prices from scrap dealers because of the Chipmunk's high 8 to 1 compaction ratio. Even with this high power output, the Chipmunk saves on energy by utilizing a 30 HP main motor at a fraction of the power required for competitor systems due to its exclusive kinetic energy design.
o Chipmunk's dense, consistent briquettes make it easier to obtain market value prices for compacted scrap while facilitating honest weighing and preventing loose chip "short" weighing.
o Efficient chip processing system with high compacting force increases the amount of expensive coolant reclaimed from chips, a second and often neglected second source of savings and additional income.
o Chipmunk is a high volume system with a compact footprint ideal for both small and large-scale chip producing operations. It is simple to operate and takes up no more floor space than standard machining centers while it reduces scrap and coolant storage.

As a leader in the precision machining world for over 60 years, Kurt has built a long-standing reputation for innovating new manufacturing processes, many like the Chipmunk with difficult engineering challenges. Among these is the Anglock Vise developed by Kurt in the 1960's, which continues today as a world standard for precision workholding in CNC machining centers. A broad line of precision workholding devices is now sold throughout the world under the Kurt brand. Kurt also was an early leader in the development of complex disc drives for the computer industry which it continues to supply. The company holds numerous patents for both software and hardware which it supplies through another division to all types of manufacturers with SPC quality programs. Kurt also is a leading supplier of precision military hardware used in rockets and aircraft.

Kurt offers a FREE chip evaluation and cost/payback projection for its Chipmunk system. Call for more information 1-763-572-4414.

Email: robert.swanson@kurt.com
See at kurtchip.com
Or write to Kurt Manufacturing Company, Chip Solutions Division, 1325 Quincy Street Northeast, Minneapolis, Minnesota 55413.

More from Packaging Products & Equipment