Metal Coating uses no EPA regulated chemicals.
Press Release Summary: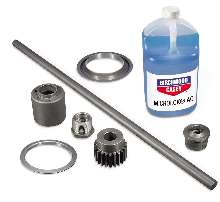 Microlok® AO metal coating provides corrosion resistance using non-corrosive bath. Immersion tank process works on iron and non-stainless steel surfaces to form 0.000040 in. thick aluminum oxide conversion coating. When sealed with rust preventive topcoat, Microlok AO protects parts during storage and shipping and provides break-in lubricity and anti-galling protection. Finish is suited for tooling and machine components, automotive parts, and oil-field equipment.
---
Original Press Release:

New MICROLOK® AO Metal Coating For Iron and Steel Components From Birchwood Casey


Provides High Corrosion Resistance Using A Non-Corrosive Bath And No EPA Regulated Chemicals

Eden Prairie, Minnesota: A new, environment and user-friendly metal coating process for iron and steel components, called MICROLOK® AO, has been introduced by Birchwood Casey.

The patent-pending immersion tank process works on all iron and non-stainless steel surfaces. It forms a non-toxic aluminum oxide conversion coating that is 0.000040 inches
(1 micron) thick that is tightly bonded to the part surface. It has an attractive silver-black color. When sealed with a rust preventive topcoat, the MICROLOK AO coating protects parts during storage and shipping and provides break-in lubricity and anti-galling protection.

Unaffected by temperatures as high as 1400° F, the MICROLOK AO finish can be used in high-heat applications and also serves as an excellent base for paint finishes or other topcoats, outperforming iron phosphate coatings.

Unlike acidic and caustic finishing processes, the MICROLOK AO process uses a mild (pH 4-5) solution that contains no EPA regulated metals. Hazardous waste treatment of heavy metals is unnecessary and process rinse water is normally sewerable as non-hazardous effluent. The working bath operates at 150° F and does not cause a scale build-up on tanks and heaters, thereby minimizing process line maintenance.

On non-rusty surfaces, the MICROLOK AO coating process requires only five steps and 16 minutes process time:
1. CLEAN and degrease the parts for 5 minutes in SAFE SCRUB® ST biodegradable liquid cleaner at 150° F.
2. RINSE in clean water for 20 seconds.
3. APPLY MICROLOK AO coating by immersing parts in process bath for 10 minutes at 150° F.
4. RINSE thoroughly in clean water for 20 seconds.
5. SEAL in appropriate rust preventive, such as SHEATH® RB1 water displacing oil; or in DRI TOUCH® PLUS IRP3 non-tacky rust preventive. Or force dry. Or apply paint, and then cure as required. Or apply stamping lubricant.

The MICROLOK AO finish is ideal for tooling and machine components, automotive parts such as tie-rods and ball joints, oil-field equipment - any part that does not require a black finish, but does require robust corrosion protection or anti-galling properties without a dimensional change.

The MICROLOK AO process is an easy and safe in-house coating system that can streamline part movement, reduce finished inventory and enhance ISO accountability.

Want more information?
Call 952-937-7931 for Free Brochure.
Or write to Birchwood Casey, 7900 Fuller Road, Eden Prairie, Minnesota 55344-9702. Fax: 952-937-7979. Visit the Birchwood Casey website at www.birchwoodcasey.com. Email: info@birchwoodcasey.com

More from Electrical Equipment & Systems