Metal Barcode Tags help companies track equipment.
Press Release Summary: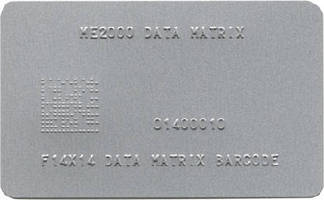 Operating with barcode tags, CheckMate Software records where equipment is, who has it, and when it is due back. Software tracks A, B, and C Class items and includes Maintenance Module that records repairs, schedules regular periodic maintenance, and records warranty expiration dates. With Metal Barcode Tags, users can track items where typical labels will not adhere, such as fans, drills, saws, and other equipment where surface is not flat or smooth.
---
Original Press Release:

Metal Tags Help Companies Track Equipment



Redmond, Washington -- Dynamic Systems, Inc., a leader in mobile data collection applications, has introduced Metal Barcode Tags to the Checkmate Tool & Equipment Software offering.



About CheckMate Toolroom Software

CheckMate software increases productivity and saves money by reducing the time it takes to locate equipment and by assuring that items will not be lost or left behind after a job.  Based on fast, accurate barcode technology, CheckMate records where the item is, who has it, and when it is due back. The software tracks A, B, and C Class items and includes a Maintenance Module that records repairs, schedules regular periodic maintenance, records warranty expiration dates, and also tracks vehicle service and registration renewals.



Metal Tags Help Track Expensive Equipment

Dynamics systems offers a variety of barcode labels including preprinted polyester labels with adhesive backing, 2 Dimensional Labels, custom labels, and now metal tags. The introduction of metal tags allow users to track items where the typical barcode label won't adhere. Examples are fans, drills, saws, and other equipment where the surface is not flat or smooth..



About Dynamic Systems

Dynamic Systems has been a national leader in Barcode Tracking Solutions since 1981, providing flexible, complete and configurable programs for:  tool and equipment tracking, document tracking, and fixed asset management. Barcode Data collection has been proven to be the most accurate and efficient method of tracking/counting items.  Go to Barcode Solutions at http://www.a-barcode.com/case-studies/#construction



"Loss of tools or equipment and damaged or non-working equipment are major overhead costs that can be contained with a well-designed tracking system.  Our customers see a typical payback for the CheckMate Equipment and Tool Tracking System within 3-4 months," states Alison Falco, President of Dynamic Systems.



Contact:  Rob Freeman

VP Business Strategist

425-284-1662



[email protected]



www.a-barcode.com