Mesh-Backed Interlocking Tiles come in stone and steel versions.
Press Release Summary: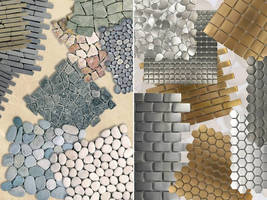 Hand sorted according to color, size, and thickness, 100% Genuine Stone Tiles and 304 Grade Stainless Steel Metal Tiles are individually adhered in mosaic or stacked patterns onto mesh style backings to create seamless interlocking tiles. Genuine Stone Tiles, handmade with marble or exotic pebbles, suit horizontal and vertical applications, while 304 Grade Stainless Steel Metal Tiles, handmade with ceramic base overlaid with brushed 304 Grade Stainless Steel, suit vertical applications.
---
Original Press Release:

Outwater Introduces Mesh Backed Interlocking Genuine Stone and Metal Tiles



Bogota, NJ (www.outwater.com) - Offered as a time and cost saving alternative to labor-intensive piecemeal fabrication, Outwater's [Outwater Plastics Industries, Inc. + Architectural Products by Outwater, LLC] 100% Genuine Stone Tiles and 304 Grade Stainless Steel Metal Tiles are hand sorted according to their color, size and thickness, and individually adhered in mosaic or stacked patterns onto mesh style backings to create seamless interlocking tiles that are easy to install using traditional methods, materials and tools.

Ideally suited for use in a wide range of residential and commercial new construction or renovation projects, Outwater's Genuine Stone Tiles and 304 Grade Stainless Steel Metal Tiles are offered in numerous styles and colors to suit an assortment of applications.

Additional Product Information

Genuine Stone Tiles:
· Handmade with marble or exotic pebbles
· Suitable for horizontal and vertical applications
· Available 10 tiles per box for Laying Stones
· Available 12 tiles per box for Stacking Stones
· Can be purchased in any quantity
· ADA compliant
· Can be used for interior or exterior applications
· Free shipping within the Continental USA with the purchase of 1 full box or more

304 Grade Stainless Steel Metal Tiles:
· Handmade with a ceramic base overlaid with brushed 304 Grade Stainless Steel
· Suitable for vertical applications
· Available 10 tiles per box
· Can be purchased in any quantity
· Can be used for interior applications
· Unlike competitors who sell 3 to 5mm thick Stainless Steel Tiles at higher cost, Outwater's Stainless Steel Tiles are 8mm thick
· Free shipping within the Continental USA with the purchase of 1 full box or more

About Outwater Plastics Industries, Inc. + Architectural Products by Outwater, LLC:
Outwater Plastics Industries, Inc. + Architectural Products by Outwater, LLC can be contacted Toll Free at 1-800-631-8375 (For sales and product information in the USA & Canada) / 1-201-498-8750 (For sales and product information outside of the USA & Canada) or viewed online at www.outwater.com

From the vendor of a single product in August 1972, Outwater Plastics Industries, Inc. + Architectural Products by Outwater, LLC, with sales and distribution facilities in New Jersey and Arizona, are recognized today as well established international manufacturers and stocking distributors of more than 65,000 standard and innovative component products required by woodworkers, cabinet and furniture manufacturers, builders, remodelers, designers, architects, point-of-purchase and display fixturing manufacturers, OEM's, as well as a very diversified range of other commercial and retail end users.

Major Product Categories include Plastic & Aluminum Extrusions; Lighting and Lighting Accessories; Furniture, Cabinet & Store Fixture Components; Knobs & Pulls; Casters; Fasteners; Laminates; The FOGA Exhibit & Display Fastening System; The Klem Connector; Literature Displays; Slatwall; Sign Holders; P.O.P Components; Display Motors & Turntables; Pedestals; Injection Molded Parts; Brass Tubing & Fittings; Surfacing Materials; Interior & Exterior Polymer & Wood Architectural Mouldings & Millwork; ORAC DECOR and DEM Architectural Mouldings & Millwork; Columns & Capitals; Balustrading; Wrought Iron Components; Decorative Stamped Steel & Polymer Ceiling Panels; Wainscoting; Wall Coverings; Fireplace Surrounds; Plastic "Glass" Block; Plaster Architectural Elements; Period & Contemporary Hardware; Kitchen & Bath Accessories; Kitchen & Bath Cabinetry and Vanities... and so much more!

Contact:
Joey Shimm, Director of Marketing
Outwater Plastics Industries, Inc. + Architectural Products by Outwater, LLC
(201) 498-8750

More from Machinery & Machining Tools