Mencom Presents Industrial Protocol Gateways for Harsh Environments
Press Release Summary: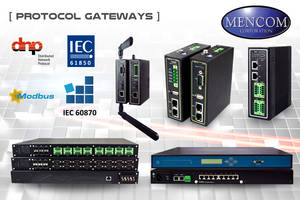 The Industrial Protocol Gateways are designed to integrate new protocols into the existing layout and connecting them to outdated protocols. The devices are offered with reliable software for managing translations from protocol to protocol. They can be operated in -40°C to +85°C temperature range and are available with din-rail or rackmounts and with optional wall mounts. The devices are embedded with Security ((VPN over IPSec or OpenVPN function), which protects sensitive data from unauthorized accesses.
---
Original Press Release:
Mencom Introduced Industrial Protocol Gateways for Legacy Systems Integration
Not long time ago, serial-based communication was the standard in the networking industry. Hence, serial or CAN-based equipment, machinery, robots and PLCs that were manufactured more than a decade ago still can be found nowadays in many industrial sectors. In the Industry 4.0 era, technologies are rapidly evolving and modern industries keep looking for the faster networking solutions to transfer and process a larger amount of data because the outdated equipment cannot simply manage it. Upgrading perfectly running networking system is, However, a painful process both financially and effort-wise. Furthermore, changing sensitive utility infrastructure is always risky. Readapting existing equipment into a new layout can be just too overwhelming.
Mencom Protocol Gateway series can provide an efficient and economical solution for the cumbersome network update by seamlessly integrating new protocols into the existing layout and connecting them to outdated protocols. The supported protocols are Modbus RTU, Modbus TCP, Profinet RT/IRT, DNP3.0 Ethernet, DNP3.0 Serial, IEC 60870-5-101, IEC 60870-5-103, IEC 60870-5-104, IEC 61850 devices, and PLCs. 80 different protocol combinations can be selected in the firmware and integrated with 10 different hardware platforms based on the network/application requirements, which gives hundreds of flexible options to choose for end-users.
The Protocol Gateway series is equipped with powerful hardware platforms and a reliable software to manage the translation from protocol to protocol. They are designed to withstand the harshest environments with temperatures ranging between -40°C and +85°C degrees with up to 95% humidity. They also have a very long reliability with MTBF exceeding 20 years and comply with industrial EMC requirements/IEC 61850 chapter 3. SFP, Ethernet, TB5 or DB9 serial connectors are available for the connector types. The Din-Rail and Rackmount is the standard, and the wall mount is optional for models with the Din-rail mount.
All products can be embedded with Security (VPN over IPSec or OpenVPN function) that protects sensitive data from unauthorized accesses. Through this device, remote or unmanned site monitoring can be set up in a heartbeat. In addition, they share the same configuration tool, which helps a migration easy from one platform to another. This user-friendly Java-based configuration tool also helps the system integrator to manage data point mapping, polling frequency and configuration upload in with a fast and cost-effective manner. The data flow is monitored through the embedded debugging tool and it makes sure the conversion is performed as the applications require.
Please visit www.mencom.com for more details.
For details, contact:
Mark Dixon
Marketing Manager
E-mail : mark@mencom.com
Phone : (770)534-4585