MEMS System supports, heats electron microscopy samples.
Press Release Summary: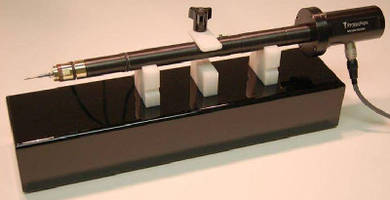 Replacing standard furnaces with conductive ceramic membrane that simultaneously supports and heats sample, Aduro(TM) HT system provides accurate and well-controlled operation with virtually no thermal drift. Its low thermal mass also allows for response times up to 1,000,000°C/sec to 1,200°C max. With stability and true reaction-rate heating, software-controlled heating system enables range of in-situ experiments on any electron microscope.
---
Original Press Release:

Revolutionary MEMS System for in situ Electron Microscope Thermal Studies Enables Atomic Resolution at Temperatures up to 1200°C



Hatfield PA, Dec. 10 2008. The Aduro(TM) HT system for in situ electron microscopy is now available from Electron Microscopy Sciences, the leading supplier of accessories and supplies for electron microscopy. Developed by Protochips Inc., the Aduro(TM) system provides extremely accurate and well-controlled sample heating with virtually no thermal drift. The breakthrough system overcomes issues of thermal drift and slow responses in conventional heating stages and TEM holders.

Traditional electron microscope heating stages use large heating supplies elements millimeters away from the specimen. The Aduro(TM) heating system replaces standard furnaces with an ultra-thin, conductive ceramic membrane that simultaneously supports and heats the sample. The low thermal mass of the ceramic membrane also allows for extremely fast response times, up to 1,000,000°C per second to temperatures up to 1200°C. With excellent stability and true reaction-rate heating, the software controlled Aduro(TM) heating system enables novel, in situ experiments on any electron microscope including sintering, rapid thermal cycling and lifetime testing, grain growth, phase changes, surface reactions and quenching - all at the high resolution possible.

For more information please visit the online product information at http://emsdiasum.com/microscopy/press/in_situ_microscopy.aspx

About Electron Microscopy Sciences
Electron Microscopy Sciences is the most comprehensive source for electron microscopy, light microscopy, and histology supplies, chemicals, and equipment. We are committed to providing the highest quality products along with competitive pricing, prompt delivery and outstanding customer service.

Company Contact
Stacie Kirsch
stacie@ems-secure.com
215-412-8400
Web Site: www.emsdiasum.com

More from Packaging Products & Equipment