MEMS Accelerometers help detect structural defects early.
Press Release Summary: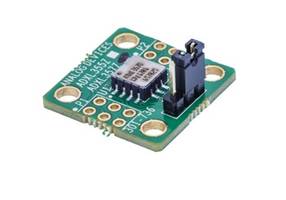 Performing high resolution vibration measurement with very low noise, 3-axis Models ADXL354 and ADXL355 enable early detection of structural defects via wireless sensor networks. Devices provide output of ±2 to ±8 g full scale range, selectable digital filtering from 1 Hz to 1 kHz, and low noise density of 25 µ/√Hz at less than 200 µA current consumption. Supplied in 6 x 6 mm hermetic package, accelerometers offer guaranteed temperature stability with null offset coefficients of 0.15 mg/C (max).
---
Original Press Release:
Analog Devices' MEMS Accelerometers Enable Early Detection of Structural Defects
NORWOOD, Mass.-- Analog Devices, Inc. (ADI) today announced three-axis, MEMS accelerometers that perform high resolution vibration measurement with very low noise to enable the early detection of structural defects via wireless sensor networks. The low power consumption of the new ADXL354 and ADXL355 accelerometers lengthens battery life and allows extended product usage by reducing the time between battery changes. The low noise performance of the ADXL354 and ADXL355 with low power consumption makes it now possible to cost-effectively enable low-level vibration measurement applications such as Structural Health Monitoring (SHM). Additionally, the tilt stability of ADXL354 and ADXL355 accelerometers delivers excellent repeatability over temperature and time, which is ideal for orientation and navigation systems in unmanned aerial vehicles using Inertial Measurement Units (IMUs) and inclinometers. By providing repeatable tilt measurement under all conditions, the new accelerometers enable minimal tilt error without extensive calibration in harsh environments.

Analog Devices' MEMS Accelerometers Enable Early Detection of Structural Defects (Graphic: Business  ...
View the ADXL354 product page, download data sheet, order samples and evaluation boards: http://www.analog.com/ADXL354
View the ADXL355 product page, download data sheet, order samples and evaluation boards: http://www.analog.com/ADXL355
Connect with engineers and ADI product experts on EngineerZone®, an online technical support community: https://ez.analog.com/welcome

The ADXL354 and ADXL355 accelerometers offer guaranteed temperature stability with null offset coefficients of 0.15mg/C (max). The stability minimizes resource and expense associated with calibration and testing effort, helping to achieve higher throughput for device OEMs. In addition, the hermetic package helps ensure that the end product conforms to its repeatability and stability specifications long after they leave the factory.

With output of ±2g to ±8g full scale range (FSR), selectable digital filtering from 1 Hz to 1 kHz, and low noise density of 25µ/√Hz at less than 200µA current consumption, the ADXL354 and ADXL355 accelerometers offer performance level comparable to much more expensive devices with less power consumption and BOM cost.

Product Pricing and Availability                            
ProductOutput InterfaceSample
AvailabilityFull
ProductionPrice Each
per 1,000PackagingADXL354AnalogNowNow$25.42 6x6 mm 14-lead LCCADXL355SPI NowNow$28.256x6 mm 14-
lead LCC
         
About Analog Devices
Analog Devices (NASDAQ: ADI) designs and manufactures semiconductor products and solutions. We enable our customers to interpret the world around us by intelligently bridging the physical and digital worlds with unmatched technologies that sense, measure and connect. Visit www.analog.com.

EngineerZone is a registered trademark of Analog Devices, Inc.
Follow ADI on Twitter at http://www.twitter.com/ADI_News
Read and subscribe to Analog Dialogue, ADI's monthly technical journal, at: http://www.analog.com/library/analogDialogue/

Contacts
Analog Devices, Inc.
Linda Kincaid, 781-937-1472
linda.kincaid@analog.com
More from Controls & Controllers