Microelectromechanical Systems (MEMS)
MEMS Acceleration Sensor detects movements down to 0.00025 G.
Press Release Summary: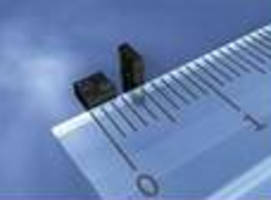 Utilizing 14-bit measurement dynamic, triaxial BMA180 acceleration sensor can sense accelerations of 0.00025 G and tilt changes in field of gravity of 0.25º. Technical characteristics are programmable, including measuring range from 1-16 G in 7 steps, sensitivity, offset, TCO, and TSO, even during operation. Automatic zero balancing functions offer residual zero-G offset at below 5 mG, while offset temperature drift is 0.25 mG/K. Unit is contained in 3 x 3 x 0.9 mm LGA housing.
---
Original Press Release:

The Most Sensitive MEMS Acceleration Sensor



Bosch Sensortec's new acceleration sensor recognizes movements from 0.00025 g

New top model BMA180 already in series production

o Highest sensitivity: Accelerations in all directions can be reliably and exactly detected up to 0.00025 g/0.25º tilt change

o All important parameters and characteristics are programmable

o Best value in its size class for offset, linearity, and drift, too

The new, triaxial BMA180 acceleration sensor from Bosch Sensortec establishes the benchmark for micromechanical systems (MEMS) for consumer electronics, like laptops and mobile phones. The component, measuring only 3 x 3 x 0.9 mm in its LGA housing, reacts more sensitively to even the smallest of movements than every other comparable acceleration sensor: In the 2-g measuring range, minimal accelerations of 0.00025 g and tilt changes in the field of gravity of only 0.25º can be reliably detected using its 14-bit measurement dynamic. With its extraordinarily high sensitivity and an extremely good linearity, the BMA180 covers the entire scope of applications for g sensors - from simple step counters in pedometers up to precision applications, such as in GPS navigation support and in digital spirit levels. Bosch Sensortec has already begun mass production of the new top model g-sensor.

The BMA180 provides unique features

Product developers have the benefit of programming the technical characteristics according to their specific needs. For instance, the measuring range can be switched between 1 g and 16 g in seven steps - even during operations. Within a measuring range, the variation in sensitivity is extremely low: in the 2-g range, it is only 1.5% with a temperature drift TCS (temperature coefficient of sensitivity) of 0.01%/Kelvin. The internal digital filter's programming, with 8 x low-pass, 1 x high-pass, and 1 x band-pass, offers designers numerous options for internal signal conditioning.

As is appropriate for high signal resolution, the integrated automatic zero balancing functions with the highest exactitude, the residual zero-g offset remains below 5 mg. This is especially relevant for navigation applications: when using a BMA180, they can achieve an extremely high degree of accuracy in determining position that exceeds every other acceleration sensor by several magnitudes. The offset temperature drift (TCO) is minimal, at 0.25 mg/Kelvin. This is easily perceived in all applications that involve large temperature variations: for example, a video projector equipped with a BMA180 and electromechanical leveling can project an image on the projection surface that remains undistorted, despite the increasing heat.

Independent from factory calibration, values such as sensitivity, offset, TCO and TSO can be calibrated within the final product so that the good characteristics of the sensor can be fully utilized in every application.



 Technical data - BMA180 (excerpt, typical values)

 Measurement range                       7, of max. ±1 g up to max. ±16 g

 Min. noise density - max. resolution	 150 µg/Hz - ±0.25 mg

                                         (in the 2-g range)

 Min. offset (incl. offset tuning)	 ±5 mg

 Offset drift	                         ±0,25 mg/K

 AD converter	                         14-bit, can be switched to 12 bit

 Operating temperature                   -40 to +85°C

 Supply voltage                          +1.62 to +3.6 V(DC)

 Power consumption, when operating	 650 µA to 975 µA -

 - in sleep mode                         0.5 µA

 Data interfaces	                 I2C and 4-wire SPI, interrupt signal



About Bosch Sensortec

Bosch Sensortec GmbH, a 100 percent subsidiary of Robert Bosch GmbH, offers micromechanical sensors and their application for consumer electronics, security systems and logistics. Its product portfolio to date includes triaxial acceleration sensors as well as pressure sensors. The company was founded in early 2005 and is headquartered near Reutlingen to the south of Stuttgart (Germany). For more information about Bosch Sensortec, visit www.bosch-sensortec.com.

About Bosch

Bosch has been active in the field of MEMS since 1988, being one of the pioneers in this technology. Today, hundreds of engineers of the Bosch Group work in the field of MEMS. A wide selection of products - from pressure and acceleration sensors to yaw-rate sensors - is manufactured for the automotive industry. Annual production at Bosch is more than 200 million sensors.

Contact:

Bosch Sensortec

Julia Patzelt

Phone: +49 7121 35 35921

The Bosch Group is a leading global supplier of technology and services. In the areas of automotive and industrial technology, consumer goods, and building technology, some 280,000 associates generated sales of 45.1 billion euros in fiscal 2008. The Bosch Group comprises Robert Bosch GmbH and its more than 300 subsidiaries and regional companies in over 60 countries. If its sales and service partners are included, then Bosch is represented in roughly 150 countries. This worldwide development, manufacturing, and sales network is the foundation for further growth. Each year, Bosch spends more than 3.5 billion euros, or eight percent of its sales revenue, for research and development, and applies for over 3,000 patents worldwide. With all its products and services, Bosch enhances the quality of life by providing solutions which are both innovative and beneficial.

The company was set up in Stuttgart in 1886 by Robert Bosch (1861-1942) as "Workshop for Precision Mechanics and Electrical Engineering." The special ownership structure of Robert Bosch GmbH guarantees the entrepreneurial freedom of the Bosch Group, making it possible for the company to plan over the long term and to undertake significant up-front investments in the safeguarding of its future. Ninety-two percent of the share capital of Robert Bosch GmbH is held by Robert Bosch Stiftung GmbH, a charitable foundation. The majority of voting rights are held by Robert Bosch Industrietreuhand KG, an industrial trust. The entrepreneurial ownership functions are carried out by the trust. The remaining shares are held by the Bosch family and by Robert Bosch GmbH.

Additional information can be accessed at www.bosch.com.

More from Controls & Controllers