Memory Tag facilitates condition monitoring.
Press Release Summary: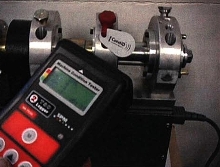 Contact-free CondID® consists of microchip imbedded into glass fiber reinforced epoxy tag that is suitable for indoor and outdoor use. It stores all information needed for instant condition measurement. Tag loads T30 and A30 instruments with all measuring point data and also saves latest measuring results (Read & Write). Instruments and CondID tags are used with Condmaster® PRO46 software.
---
Original Press Release:
CondID® Intelligent Memory Tag

SPM Instrument, Inc. is proud to introduce the solution to the age-old problem of identifying machinery-measuring points when performing Condition Monitoring rounds. The CondID® tag stores all the information you need for an instant condition measurement.

CondID adds more accuracy and a new laborsaving dimension to condition monitoring data collection. The contact-free ID tag loads the instrument with all measuring point data and also saves the latest measuring results (Read & Write).

Antennas for RF transponders are built into the Data logger versions of the T30 & A30 instruments. The instruments and CondID® tags are used with SPM Condmaster® PRO46 software.

A microchip is imbedded into a glass fiber reinforced epoxy tag that is suitable for indoor and outdoor use. No more problems as associated with bar-coding and special adapters, i.e. dirt, grease, water, paint and wear.

Benefits for using CondID® with Predictive Maintenance programs:

- Complete rounds in less time with more insured accuracy.
- Provide accurate reports from easy to use in-house instrument use.
- System security with read & write passwords.
- Troubleshoot measuring points without loading a new round.
- Ability to collect and record process parameters.
- Collect readings at any time in any order.

SPM Instrument, Inc.; 359 North Main Street; P.O. Box 89; Marlborough, CT 06447 Tel: (860) 295-8241; Fax: (860) 295-0182
Web site: spminstrument.com; E-mail: info@spminstrument.com
More from Electronic Components & Devices