Memory Sockets accept 16-bit/32-bit SO-DIMM assemblies.
Press Release Summary: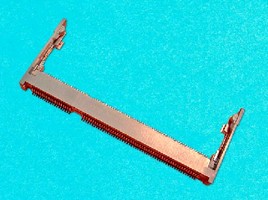 Suited for communications equipment and peripheral devices, 144-position, 0.8 mm pitch Series 10062086 measures 5.2 mm tall and provides 3.3 mm separation between top surface of host board and installed module. Horizontal sockets employ mechanical voltage keying to differentiate between versions that accept 2.5 V DDR or 1.8 V DDR2 memory module assemblies. Compliant with JEDEC-defined 16b/32b Socket Outline, sockets are designed for surface-mount solder termination.
---
Original Press Release:

FCI's New 144-position Horizontal Memory Sockets Accept 16-bit/32-bit SO-DIMM Assemblies



ETTERS, PA (July 11, 2006) - FCI, a leading supplier of connectors and interconnect systems, has developed 144-position, 0.8mm pitch horizontal sockets that accept 16-bit and 32-bit small outline dual in-line memory module (SO-DIMM) assemblies. The 10062086-series sockets are 5.2mm tall and provide 3.3mm separation between the top surface of the host board and an installed module. The connectors are ideal for use in communications equipment and peripheral devices such as mid- to high-end printers and copiers.

"The connectors have an enhanced latch system design that improves reliability," said Alan Chen, FCI Product Manager. "The hold-down clip mechanisms at each end of the connector act as physical stops to prevent over-rotation of the memory module during installation and to protect against over-extension of the flexible latching arms during module insertion or removal."

The sockets employ mechanical voltage keying to differentiate between versions that accept 2.5V DDR or 1.8V DDR2 memory module assemblies. These products are designed to and in compliance with the JEDEC-defined 16b/32b Socket Outline. Assignment of the JEDEC SO-XXX registration number is currently pending.

The horizontal SO-DIMM sockets are designed for surface-mount solder termination. The surface-mount retainers at the ends of the connectors provide additional mechanical strength after soldering. Lead-free and RoHS-compatible options are available to aid compliance with lead-elimination initiatives.

Samples are available for delivery, with production lead times from stock to eight weeks.

For more information about memory module connectors, contact FCI at 825 Old Trail Road, Etters, PA 17319-9351; call 800-237-2374, e-mail at electronics.us@fciconnect.com or visit FCI on the web at fciconnect.com/ddr.

About FCI
With operations in 30 countries and a turnover of 1.27 billion euros in 2005, FCI is a leading connector manufacturer. Its 13,000 employees are committed to providing their customers with high-quality and innovative products for a wide range of consumer and industrial applications. For more information: www.fciconnect.com

David Sideck, FCI Regional Market Manager, 717-938-7879, david.sideck@fciconnect.com


Related